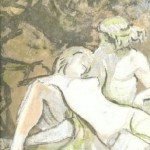 Valentine's Day is a day of love and romance. For the romantic at heart, it is a day to celebrate the special circumstances that Cupid's arrow had to penetrate through to bring love. For the rare book lover it is a day to pick up the rare book of  Jean de La Fontaine, Les Amours de Psyché et de Cupidon – The loves of Psyche and Cupid – and share it with a loved one.
The poems of Jean de La Fontaine have as their origin the myth of Cupid (Eros) and Psyche from the Greek mythology. It is a myth that involved many of the ancient gods and goddesses of ancient Greece. Eros was the son of Aphrodite (Venus) and Psyche was a beautiful mortal girl of whom Aphrodite was both envious and jealous.  Psyche in Greek is the definition of the human soul and depicts the human spirit.
Jean de la Fontaine was a French poet who was born in 1621 and died in Paris in 1695. He was a man of letters and literature.  He wrote many poems and his best known work is the Fables which is considered as one of the masterpieces of French literature. His work, Les Amours de Psyché et de Cupidon, was finished and published in 1669, and is considered to be a work of a long romance and an elegant prose. It is dubbed as La Fontaine's meditation on love and beauty, and it is essentially an ambitious work, a simpler retelling of the Apuleius' story, The golden Ass of Apuleius. In a sense, it is a retelling that has been reformed into more of an entertaining conversation.
There are several copies of various editions of Les Amours de Psyché et de Cupidon that are available for sale by used book bookstores, on-line stores  and rare book dealers. Due to its importance and popularity, the book has been reprinted in many languages and countries over the years. Unfortunately, so far it has not been possible to track down a copy of the very first 1669 edition of this important work.  The last edition of this work that has some value is the 1991 edition, and copies of this edition that are for sale are about 30 USD. The 1955 edition illustrated by Paul-Emile Becat  is being sold for about 300 USD, while the 1932 edition illustrated by Carlegle  is about half or double that amount depending on paper quality. Copies printed on Japon impérial paper are more expensive than the more common vélin de Rives. If you really want to own a very old edition such as the 1791 edition, it will cost you over 3,000 USD. This edition is printed on quality, thick paper through a process referred to as "la poupee," which uses a single plate with a "rag doll" to produce multi-colored illustrations instead of separating each color on a separate plate.  This newly developed technique was adopted by the printing house, Defer De Maisonneuve for this edition of Les Amours, and its four color-printed engraved plates after M. Schall . A magnificent example of the importance of the imprint attributes in exemplifying value.
This Valentine's Day, why not experience the drama, suspense, heartbreak and romance that Les Amours de Psyché et de Cupidon can provide? Not only will La Fontaine's masterpiece be a crowning addition to any rare book library, but it has the capacity to revive romantic lives once opened and enjoyed.