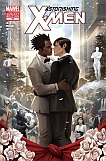 The rarest comic books around are usually those whose story incorporates a real life event or depicts the significance of change in the real world. Such comic books are often sought after either by comic book collectors or by people collecting particular memorabilia of that specific event.
For example, the horrific attacks on 9/11 understandably had a profound impact all over the U.S.A. In response to the attacks, Marvel released Amazing Spiderman #36 on December 2001 as a tribute which portrayed the devastation of Marvel's writers towards the attacks on the World Trade Center.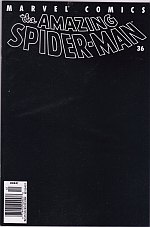 Featuring a pitch black cover, a very simplistic and sad story, as well as a crying Doctor Doom, this issue is one sought after by a lot of Spiderman collectors, 9/11 memorabilia collectors, Marvel collectors, or unique comic book collectors in general. The average price for such a copy currently varies from $50 to $100.
With the recent legalization of gay marriage in the state of New York, Marvel has decided that Northstar (the first openly gay character in the Marvel Universe) will have his wedding in Astonishing X-Men #51. This issue will be available June 20th, 2012, so there is still time to secure your copy of this unique comic book from your local comic book shop. If you are fortunate enough to find the variant which is pictured above, then consider yourself lucky. Legalizing gay marriage has been a big issue all over the world and regardless of whether you are for it or against it, a comic book which marks the occasion and its controversies is one that is bound to appreciate its value in the long run.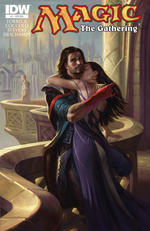 Comic books can often be used as a promotion medium to video games, TV series, and sometimes even movies. These comic books are worth seeking after, regardless of whether or not the plot is a good one. The reason for this is that comic books such as these, are often limited editions or are only published for a few issues. This scarcity makes these comic books collectable and attractive not only to comic book collectors but also to the video game, TV series enthusiasts. An example of this is the highly sought after Magic The Gathering comic book. Released a few months previous, as its name suggests, Magic The Gathering comic book is a comic book about the very popular card game also entitled Magic the gathering. The comic books come with a special card which can be used in the game, and which are unique to the comic issue.  These comic books are, of course, also sought after, and it is a good idea to keep an eye open for similar special promotions.
Events and promotions are another significant aspect of the comic book world in addition to special series issue numbers. Keep a close watch on Marvel, as they are more likely than DC to incorporate real life events in future publications. Keep an eye out for election related themes in future releases, and any other major development that may occur particularly in the U.S.A, that has the capacity to inspire comic book publishers, artists, visionaries. Needless to say – keep collecting.