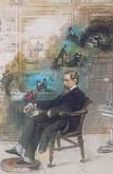 Charles John Huffam Dickens was born on the 7th February 1812 in Mile End Terrace, Portsmouth, England. The son of a pay office clerk, no one could have imagined that young Charles would become one of the greatest novelists of all time, responsible for such acclaimed works as Oliver Twist, Great Expectations and A Christmas Carol.
200 years later, historians and lovers of great literature across the globe are celebrating the life and works of Charles Dickens with a series of events, ranging from new TV adaptations of his best loved works to major exhibitions about his life and achievements.
Considerable information regarding current and upcoming events can be found at www.dickens2012.org, the online home of Dickens 2012 – the international celebration of the life and works of Dickens coordinated by the Charles Dickens Museum and Film London in association with The Dickens Fellowship. Dickens 2012 has an impressive list of supporters including Sir Derek Jacobi, Simon Callow CBE, Sir Cameron Mackintosh and Peter Ackroyd CBE and is backed by the Mayor of London as a cultural highlight of 2012.
It might seem odd, but London's Charles Dickens Museum has chosen this year to close for major reconstruction works – the "Great Expectations" Renovation Project. It is, perhaps, a strange decision, but the works are considered necessary to bring the Museum, which is located at Dickens's former home at 48 Doughty Street, up to date and, as the Museum has stated, it makes sense to close "… when there are a large number of alternative Dickens activities on offer". The Museum will re-open in December this year, just in time for Christmas – a time of year with which Dickens is perhaps most associated.
Visitors to Londonlooking to learn more about the life and times of Charles Dickens needn't worry, however, since there is plenty going on. As well as the events listed at the Dickens 2012 website, the Museum of London is also currently hosting (until 10th June 2012) a major exhibition dedicated to Dickens and London.
The first major exhibition on Charles Dickens in the UKsince 1970, Dickens and London reveals that Dickens was the first great novelist of the modern city and the age of mass culture. Original and rarely seen manuscripts of his most famous novels, including Bleak House and David Copperfield, are on display and the exhibition explores the central relationship between the writer and the city – his "magic lantern" – that inspired much of his work.
Dickens is known to have walked the streets of Londonat night, seeking inspiration for characters and places and plots that would appear in his novels and, thanks to this exhibition, visitors can experience the Londonthat Dickens himself would have known. The exhibition also explores the 19th century social issues that touched the writer so deeply, including childhood mortality, wealth and poverty.
Alex Werner, Head of History Collections at the Museum of London and lead curator of Dickens and London, said: "Dickens is the first author to describe the modern city of the 19th century and its profound impact on society and, in particular, on ordinary people.Londonwas Dickens inspiration. He knew its alleys and streets better than anyone. His writings remain relevant today especially for the rapidly developing mega-cities around the world, which face many of the problems and challenges that impacted on Victorian London 150 years ago."
On display are a number of unique and priceless items, including Dickens' writing desk and chair and bank ledger. Also on display are manuscript pages describing the East End opium den featured in Dickens' last, unfinished novel The Mystery of Edwin Drood which have been loaned to the exhibition by theVictoria&AlbertMuseumalong with William Powell Frith's celebrated portrait of Dickens.
The Museum of London has also launched a new graphic novel app for the iPhone and iPad which takes visitors through the darker side of Dickens' London. Appropriately titled Dickens: Dark London, the app features narration by acclaimed British actor Mark Strong and illustrator Foldvari and follows Dickens on his nightly walks around the city. As Alex Werner says: "This new app is a 21st century key that will open the door onto dark London."
Charles Dickens was 58 years old when he died on the 9th June 1870. He was buried in Westminster Abbey's Poet's Corner, the final resting place of literary greats such as Geoffrey Chaucer,  Alfred, Lord Tennyson, Robert Browning, and Rudyard Kipling, to name but a few.
An exceptional writer, an accomplished performer, a father of ten children, and a driver of social reform, it is no coincidence that, 200 years after his birth, we are still captivated by Charles Dickens and his works.
DICKENS AND LONDON
Museum of London
150 London Wall,
London,
EC2Y 5HN
T: 020 7001 9844
Ticket prices and more information about the exhibition can be found at www.museumoflondon.org.uk/Dickens
THE CHARLES DICKENS MUSEUM
Charles Dickens described number48 Doughty Streetas 'my house in town' and lived there between the years of 1837 until 1839. Two of his daughters were born there, and some of his best-loved novels were written there, including Oliver Twist and Nicholas Nickleby. With a growing family, Dickens moved to 1DevonshireTerrace in 1839. The Dickens Fellowship acquired theDoughty Streetproperty in 1923 and the Museum opened in 1925. A registered charity, it has since become the world's finest Dickens-related collection. The Great Expectations renovation project taking place this year will be completed in December 2012, just in time to celebrate a Dickensian Christmas in the novelist's bicentenary year.
As well as conducting structural repairs, the Great Expectations project will also improve access to the Museum, it will expand its capacity to offer a broader range of activities, and will reinterpret the collections so that visitors can enjoy an increased appreciation of Dickens and his works. The temporary closure of the Museum means that other museums, libraries and archives will be able to borrow from its comprehensive collections during the Dickens 2012 celebrations.
THE CHARLES DICKENS MUSEUM,
48 Doughty Street,
London,
WC1N 2LX
T: +44(0)20 7405 2127