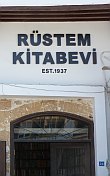 While on vacation on the small island of Cyprus, I was pleasantly surprised with the opportunity to explore a Turkish Cypriot rare book store. After a tip from a local businessman I made my way towards the center of Nicosia, the capital of the island, to travel from the Greek side of the city to the Turkish side. I excitedly embarked on a quest to find the undiscovered treasures left behind during the height of the Ottoman Empire in the 16th and 17th centuries. After all, my lead source had described the place as a historic bookstore that time just passed by.
The anticipation that I was soon to dive into old Middle Eastern collections, particularly old editions of the Quran, algebra (al-jabr) books by al-Khwaizmi, or medical books by Ibn Sina, al-RaziA (Rhazes), was just too exciting. After meandering through a border checkpoint and a shopping street flanked with vendors and coffee shops, I found myself  transported to the threshold of the lovely rare book shop. Nestled amongst several Turkish monuments charmingly adorned with pastel colored shutters and graceful wrought iron balconies, stood the destination of my day's adventure: the Rustem Kitabevi bookshop.
Once entered the shop's indisputable charm and beauty capture and delight the awestruck visitor.  Shafts of sunlight fall from the shop's windows spreading ample lighting to assist in closer observation of all that the shop offers. A closer observation revealed an appearance that did not meet my expectations. After inquiring with the very helpful shop owner, Ali, I found that the shop did not indeed offer old religious or free-thinking writings by philosophers of Islam. Instead, Rustem Kitabevi, specializes in British first editions primarily from the 1950's, from well known publishers such as Jonathan Cape, Hodder & Stoughton, Chapman & Hall, William Heinemann, Oxford University Press, and so forth.
After taking a minute to adjust my bearings and switch my appetite to browsing content from a more recent century, I was pleased to detect from a corner of the already inviting shop the delectable and tantalizing aroma of freshly ground coffee. Indeed, this is no ordinary rare book shop. In addition to providing delightful rare book finds, Rustem Kitabevi also offers a wondrous restaurant, where book lovers can relax in the midst of a euphoric utopia of extraordinary rare books and delicious Turkish food.
A curving iron staircase and the unmistakable scent of edible concoctions beckon the visitor to the second story of the shop, where rare literature and food conjoin. Room after room of floor to ceiling books reach out to embrace the individual, and wherever there is room, a table and chairs are set up for those who would like to partake of the shop's scrumptious fare. Settling down at one of the offered tables provides a refreshing and ameliorative feeling of peace and harmony. Wooden planked floors and post and beam rafters add to the rustic and secluded façade of a shop that is hidden in a beauteous forest rather than the bustling street of which it is situated. Even the harder to reach books that seemed out of reach, I was convinced, were very easily accessible using the provided ladders and even a wooden bridge.
Another unique aspect of Rustem Kitabevi, is that the prices of nearly every rare book are negotiable, and are not on display or marked anywhere inside the book. In fact, Ali will take a few minutes to research the particular book of one's interest before encouraging the potential buyer to haggle and propose opposing prices, so long as they are reasonable. This allowance for bartering and bargaining creates a fun environment reminiscent of Middle Eastern marketplaces, the traditional bazaar.
While some of the world's great wonders often require considerable travel, places such as Rustem Kitabevi make the trip far worth the effort. From a spectacular medley of modern first editions, to a place of rest and solace, Rustem Kitabevi captures the rare book enthusiast's senses and provides an experience that is both unique and memorable.