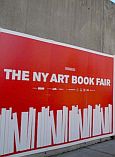 In case you were wondering why Brooklyn seemed devoid of its usual hipster crowd tonight, it was not your imagination. They had all migrated just a few paces north to Long Island City, Queens, an entirely separate borough, but a stone's throw from Greenpoint and Williamsburg. Skinny jeans, gingham/ plaid/ flannel/ floral/ checkers/ paisley shirts, large eyewear, fitted hoodies and flat shoe wear, flooded the massive space of MoMA PS1. Encompassing 4 separate floors, there were tents galore, a myriad of corridors and courtyards, exhibits both indoors and out, a conventional bookstore, a café and even stadium bleacher seating. One room spilled into the next where some 272 vendors, give or take, had set up shop, er—camp.
Books were in plentitude at the NY Art Book Fair, however many other items were on display. There were canvas bags with entire printed paragraphs on them, sporting the heading "How Artists Must Dress." There were pins, pamphlets of every kind, materials in every language, materials in no language at all, items that consisted entirely of illustrations, wall posters and sconces—some creeping up into the ceiling—and objects that I just plain did not know what I was looking at. At one point, a man passed me holding a light installation that I believe was part of his exhibit, or perhaps he himself was the exhibit. There was an abundance of pornography, vintage everything, vintage nothing (brand-spanking new items/ books), people playing with balloons and people discussing the excitement of the fair as being comparable to ecstasy.
My first stop was a booth manned by Maryna Tomaszewska, Founder, Publisher and Editor-in-Chief of "The Worst Magazine Ever." www.najgorszy.com. Ms. Tomaszewska travelled all the way from Warsaw, Poland to share her message with Queens and felt this fair was a raving success. When I asked her why, she said, "Look at all the people!" I didn't have to look at them, I was being trampled by them, and had to shout over the herds to carry a conversation. (Ms. Tomaszewska admitted that her voice had grown hoarse since the opening "Preview Day" of the fair on Thursday, September 27th.) "So you feel this has been successful for you because you're selling a lot of The Worst Magazine Ever?" I asked. "No," said Ms. Tomaszewska, "Success is based on meeting people and networking," She patiently elaborated, "Selling is not the most important thing."
Back in Warsaw, Ms. Tomaszewska distributes her work primarily in art galleries and small bookshops. She said Warsaw, like Brooklyn, has a hipster community, however with one important distinction: The Polish hipsters have no facial hair, whereas the American hipster men use every conceivable tactic necessary to make their beards, goatees and mustaches singular.
After passing by the $6 beers, $6 wines and $2 water bottles (a steal for NYC), I stopped dead in my tracks at a Ms. Lily Pink of the Bread and Puppet Press. www.breadandpuppet.org. She represented a Theater Company from Glover, Vermont, a town one hour South of the Canadian border. When asked to describe her experience with the fair, Ms. Pink, like Ms. Tomaszewska, felt it was a huge success. I asked Ms. Pink to summarize her cause and she provided this visual: "We're a beautiful, left-wing, radical, gorgeous, sublime, funny, serious puppet theater. Our puppets range in size from the size of your hand to the size of this ceiling." She motioned to the 20-foot high auditorium ceiling we stood under.
It is worth noting that Ms. Pink was dressed head to foot in costume, a jingleberry of sorts, colorful and ornate, eye-catching, yet tasteful with its deep reds/ maroons/ pinks. Her "Jinglebook No. 5" tract that I bought for $1 was titled "Mr. Holy Nobody's Register of Results." It consists of 3 drawings, 1 drawing per page, the meaning/s of what I am not certain—something for the imagination to concoct at will. The last page boasts this cryptic, yet liberating inscription: "Jinglebooks are for overly and underly depressed citizens to better enjoy their freedom of depression."  Ms. Pink elaborated, "We deal with issues like fracking, people being thrown in jail and issues of the day."
My final stop was a refuge among the masses. Beneath a canopy in the courtyard leaned a bright yellow couch, a low-lying wooden, circular coffee table (seemingly lower to the ground than the couch) and several tiny toadstools (still lower.) I crouched down next to one of the toadstools and was greeted warmly by "The Pacifist Library" www.PacifistLibrary.org. My new friends were a husband and wife team named Nathaniel Katz and Valentina Curandi. Like Ms. Tomaszewska, they had crossed an ocean to spread their revelations; Pesaro, Italy is their home. The Pacifist Librarians were nothing short of tender and passionate hosts. They offered me solace, and surprising quiet, in an endless sea of manifestos, tracts, books and zines. Like the two exhibitors before me, Ms. Curandi and Mr. Katz found the fair to be a tremendous success. "People have used our space to relax and we've had a chance to talk about our project," they said.
For 1 month prior to coming to the NY Art Book Fair, Ms. Curandi and Mr. Katz roamed the streets of Queens with their 15-month old daughter, carrying on their backs something unfathomable: manmade bookshelves filled to the brim with books. Mr. Katz explained that he and his wife modified heavy-duty hiking backpacks from the 1970's to hold shelves of mostly donated books. I perused their collection. My eye caught "A Man to Match His Mountains" by Badshah Khan, self-described as a "Nonviolent Soldier of Islam", described to me by Mr. Katz as "A contemporary of Gandhi."
I left the New York Art Fair confused and enlightened at the same time. I wasn't sure what I had just been a part of, yet it was so non-confrontational that nothing seemed to register. Or perhaps everything was confrontational and the exhibitors were just too tired two hours prior to the day's end to solicit attendees into the nocturnes. My eyes were not sure what they had just witnessed, so, consequently, my brain could not make the appropriate connections or conclusions. I felt as if I had been spun around in a hipster blender and spit out at the exit, dazed (yet dazzled?) dumbfounded for sure, but not disappointed.