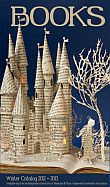 I talk with booksellers every day, and lately a large number of them tell me that they are finding it harder to justify the cost of producing new catalogs or catalogues to our friends across the pond. These are the publications containing a list of merchandise that the bookseller is featuring and promoting. Many booksellers use catalogs to inform their customers or contacts of new inventory that they have recently acquired. The catalogue itself is published in a similar fashion as any magazine publication, and distributed through a postal service, the internet, through store locations or at events such as a book fairs.
While email marketing can be very cost-effective, and with recent advances in Web analytics, be targeted to reach a very specific niche of buyers, booksellers still consider direct mailing of catalogues a vital marketing strategy in the rare book business.  As a niche market, rare book sellers need to advertise to specific people who are interested in a target area of specialization. Mailing lists usually include past customers, customers who express interest in a certain genre of books, and customers currently active in other initiatives offered by the seller. Merchandise that usually gets published in a catalogue consists of new book acquisitions, book event featured items, and special book sales.
Catalogs are expensive to produce, especially when they are made to stand out with attractive, innovative printing designs professionally rendered. Bulk postal mailing is also expensive when compared to the cost of emails or the cost of posting a catalog in a Portable Document Format (pdf) file on the bookseller's website. So why are paper catalogs still in use?  In order to answer this question it is important to make the distinction between catalogue production and catalogue distribution.
Catalog production argument:
Catalogues still have an important role in drumming up business for the serious bookseller. They are important for branding, especially at a book fair or at a bricks and mortar store.  Direct mail programs are an asset especially if they are well managed to reach a highly targeted group of collectors, and mailing costs can be avoided if the catalogs are emailed.  Let me give you an example of a catalogue promotion that on the surface does not seem to constitute an effective marketing expenditure.  Every month or so, I receive a bulky catalog sent to me to the US from Librairie Bonnefoi, livres anciens, Paris. As far as I recall I have not subscribed to the bookseller's mailing list and have certainly not purchased any books from the bookseller. Here is the worst part: the catalog has no pictures, and I cannot read the French text.
Catalog distribution argument:
Return on Investment (ROI) is a critically important measure for anything in business. If a mailer costs 200 dollars, the bookseller should be looking to earn at least 201 dollars in gross profit (revenue less cost of goods sold).  Needless to say, being able to track the activity and calculate the additional income generated by a particular mailer is difficult but crucial in determining the direct or indirect impact that the promotion had on operations. In other words, the bookseller simply has to know when a sale is the result of a particular mailer in order to evaluate its benefits.  If there is no benefit, and a review of the catalog program's quality proved not to be at fault, then it may be necessary to discontinue future mailers and, in some cases, the entire catalog production.
It is difficult to generalize on the function that direct mail catalogs serve in today's world of social networking, search engine optimization, and Web 2.0 technologies. They may just be another piece of antiquity left behind in an industry that is crowded by antiquarian booksellers. Interestingly enough,  the National Mail Order Association traces the beginning of all merchandising catalogues back to Benjamin Franklin in the United States In 1744, when he formulated the basic mail order concept and produced the first catalog in order to market, what else but scientific and academic books.