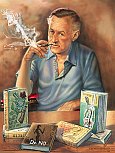 And the winner is…..Ian Fleming. Never before in the history of the Rare Book Sale Monitor (RBSM) has there been such a spike recorded. The author that was only just last quarter added to the group of authors tracked, had his works, mostly books from Jonathan Cape and the James Bond series, see a phenomenal appreciation in auction and on-line sales. Overall the "007 fan club" had a great year of continuous celebration, starting with the 50th anniversary of Dr. No, the first Bond film production, and closing with Skyfall, the first James Bond film to be nominated for the top prize at the Producers Guild of America Awards as well as being a potential Academy Awards nomination for Best Picture. Not bad for a series that is half a century old and has so far been credited with a mere seven total Oscar nominations and just two wins.
It should be no big surprise that bibliophiles and sellers pushed Ian Fleming books to new heights this past year, and not just for the high-spots. At the Sotheby's English Literature, Children's Books & Illustrations auction held in London on Dec 12, a first edition, inscribed copy of "Diamonds are Forever," sold for £15,000; while a "Thanderball" signed copy without a jacket sold for £5,625.  These hammer prices came at double the high-end estimates. Another presentation copy of "On Her Majesty's Secret Service" sold for £7,500; well over its high estimate. The enthusiasm carried over to on-line sales as well. Abebooks sold a first printing copy of "Live and Let Die," the second James Bond novel from 1954, without any signatures, for $5,095.  Moreover, Christie's conducted an on-line event titled "50 Years of James Bond: The Auction" between September 28 and October 8 that included, among a number of Bond collectibles, a copy of "Dr. No" that sold for £12,500.
The Ian Fleming appreciation is mildly reflected in the overall category performance of Modern Firsts that, along with the popular category of Arts/Photography/Architecture, are very closely monitored. Modern Firsts have historically been very volatile due to the depth that the genre represents. Children's books that have been stagnant for most of the year have rallied towards the end of 2012, while religious, exploration, military, history and politics books have held onto previous gains for the year.
Also in the authors' breakdown, J.K. Rowling did register a great deal of sales at higher prices. Could Harry Potter be the next James Bond when it comes to rare book price appreciation? Only time will tell. One thing for sure is that Ian Fleming was not quite as popular as J.K. Rowling is, when he was still with us, in terms of book price appreciation.
Allow me to take the opportunity to clarify the gaps between highly active genres such as Arts/Photography/Architecture or Modern Firsts, and less active ones such as Business and Economics or Education/Reference .  Keep in mind that these charts are depicting price appreciations within a particular genre or author, during each particular 3 month period.  The scoring of Business and Economics consisting of mostly zeroes and ones should not be interpreted as lagging behind Arts/Photography/Architecture. It is simply a volume indicator since there are about 10 times as many Art books as Business books which we currently track. In other words, the charts are capturing the trends within each of the breakdowns represented.  The key is to look for a spike or jump within a particular grouping.