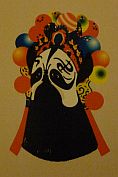 I picked up a book at a library sale the other day that seemed to be quite interesting. It contained a set of Chinese paper-cuts on each page, tipped in along with Chinese postage stamps. I could not identify any of the contributors to the work, but it did have the pages printed in both English and Chinese. It was an attractive, unique "art book" of sorts, and I decided that it was worth owning and exploring further.  My first impression was that it was some type of a private press copy of origami, which is quite foreign to my area of interest or knowledge. There was still something about this book, however, that made it worth exploring further.
Later on I got the opportunity to examine the book a bit closer and look up some of the contributors, publishers and so forth. I also tried to locate the title on a number of on-line book selling sites without much luck. It was clear that I had to consult with a Chinese folk art specialist in order to find out what the book was all about.  Mr. Benjamin Y. Wang with Kaminski Auctions is an Asian Specialist, whom I tried to engage, all the while becoming more intrigued. I started reading and researching all about Chinese paper cuts and stumbled upon some very distinct categorizations by technique and region of origin.
Evaluating the importance of Chinese paper-cuts, whose tradition is traced back to the 6th century, is not an easy task.  The craft is often used in decorative art, but it also has its roots in religious ceremonies and even sacrificial offerings.  The number one requirement is that they are handmade designs; no machine production here. Paper-cuts must also be of a single, continuous piece of an unbroken sheet of paper, usually designed or crafted by women. The themes that are derived from daily lifestyles, wedding ceremonies and festivals, carry very special meanings and symbolize what is important and strived for in prosperity and life.  A design of plump children cuddling fish, for example, signifies a wish that every year there will be abundance and wealth.
Modern bookbinding of fine Chinese paper-cuts mounted on a variety of fine papers is quite valuable. In fact, the more complex and refined the design is, the more valuable the work is considered.  The Yuxian County, located in Northwest Hebei Province, is the most reputable region for producing folk paper-cut art. It distinguishes itself with the artistic style of full composition, vivid shapes and flamboyant colors.
Back to my book though for a second, the issuer is the Yan'an Municipal Post Office in the Shaan Xi Province, which is west of Beijing and west of Yuxian: apparently the Mecca of paper-cuts.  The artist referenced is Jia Si-Gui, who is a professor at Yan'an University, and who has an outstanding family history in the paper-cutting art. When he was only four years old, he started learning the paper-cutting technique that eventually allowed him to form his own paper-cutting style that he named, "ancient earth new God."  He was recognized as the "Chinese paper-cut stamps king" with works such as the "Chairman Mao series,"  "auspicious Chinese idiom," "in memory of Xuanyuan Huang Di" and another 65 special paper-cut collections that have been printed on  stamps and issued in China.
Rare or not, the book is definitely unique not only because I have not been able to locate a second copy, but also due to the fact that its contents are very appealing. It may very well turn out that it has no significant value, but it will still be very valuable to me.  It gave me the satisfaction of discovering it and awakening in me a new genre of interest, which propelled me to research and learn something new in the vast world of rare books that I so much enjoy.