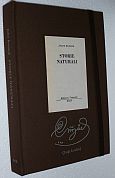 Luigi Serafini's tribute celebration to Jules Renard's Histoires Naturelles or The Natural Stories of the eternal vitality of natural history is a whimsical book of botanical constructions, with leaves forming a forest of enchanted trees and animated and mutant plants. This herbarium of imaginary plants comes to life in a botanical fantasy painted by the strangely masterful artist, architect and designer Luigi Serafini himself.
The book was published to commemorate the 100th year anniversary of Jules Renard's life (February 22, 1864 – Paris, 22 May 1910). The French writer and aphorist wrote some short epigrams called The Natural Stories in 1896 as a direct psychological observation of the animal world, which were a beautiful mix of humor and stylization. He described himself as a "hunter of images;" a model that lives up to its promise with acutely observed detail in descriptive writing, and especially when coupled with Serafini's imagery of imaginary drawings.
The text in Storie Naturali is the Latin translation of the French writer's epigrams, which accompany most of Serafini's paper craft work. Any attempt to make some sense of the artwork by translating the text into English and examining the drawings carefully, leads to the realization that it is only limited by lack of vividness in ones imagination. The story does not follow any particular order despite being grouped in sections, so trying to interpret any of the content is a matter of making associations between the text and the drawings.  For example, below is the drawing associated with Renard's epigram – The Hen (….it is a common hen, modestly dressed, never lays the golden eggs…she only drinks water…and looks for grass, insects, lost seeds to eat. She picks tireless. Occasionally, she stops.  Right under the Phrygian cap, bright-eyed, great crop, she listens first on one and then the other ear. When being sure there is nothing new, puts herself back in quest.  She lifts up her stiff legs, like those that have gout. She spreads her fingers and poses carefully without noise.  One would say that she walks barefoot.)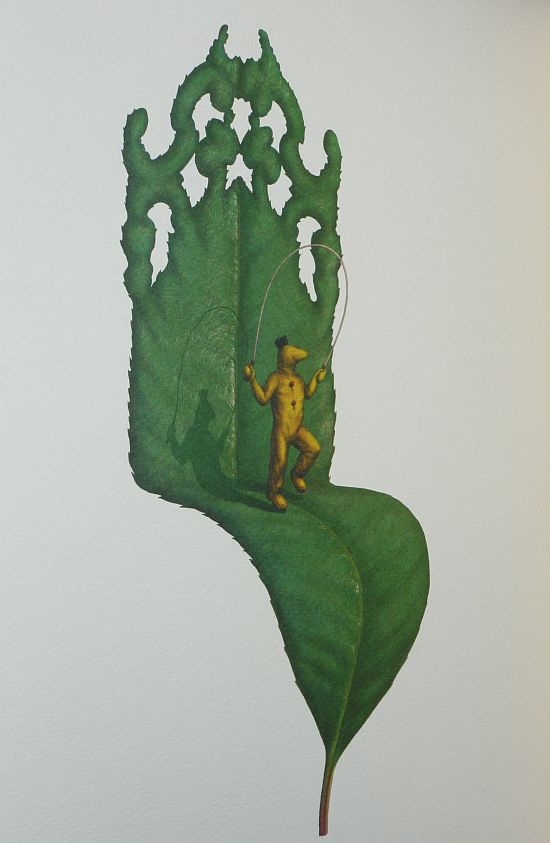 Letting your imagination run free and you may be able to detect a good interpretation of what Serafini 's drawing may be suggesting here. With a little help from Renard's  text that seems to be metaphorically referring to the constitution in France, since the national symbol of the French State is the Phrygian cap (bonnet phrygien) , one may identify Serafini's hen as actually symbolizing a playful Frenchman wearing a  bonnet phrygien and jumping rope too close to a steep drop.  However, just when you thought you had it all figured out, on the next page, Serafini's drawing is a close-up of the same "hen" picture, with the associated text describing The Finch and The Lizard. Hmmm.
If Serafini's drawings were any less enigmatic it would be quite possible that his books would also be less popular. The peculiarity factor has definitely contributed to the astounding success of the Codex Seraphinianus, and the rest of his work in general.  Making Storie Naturali any more clear to understand could quite possibly result in the work losing some of its appeal.  Unlike the Codex Seraphinianus, though, the book contains actual text and not some enigmatic, unreadable alphabet. Yet Serafini manages to maintain the sense of enigma through his own special charisma that closely resembles a personality that is, you guessed it – weird.
The original edition was published in 2010, was limited to 660 copies only, and was made available at around €300. After taking a few years to sell, a less expensive revised reprint was offered for about €70 with a few new copies still available for sale by on-line stores. A few book dealers also have the limited signed copies available for sale for at least double its original release price.  Not bad for a book that is three years old from an author who proved to have the magic touch once before with a book that had 5000 copies published, rather than 660. That book has seen value appreciation of 20 times its original price in less than 30 years. Impressive!