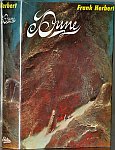 In June of 2011, Abebooks sold a first edition of the science fiction epic Dune, signed by the author, for $7,500. The amount matched the Chilton Book Company editor's advance offer made to the book author, Frank Herbert, back in 1963. It proved to be a tough sell at the time, as publisher after publisher rejected to publish the work after reading the first few pages that contained references to multiple protagonists, places, terms and concepts. The novel is also quite overwhelming for the first time reader without any background knowledge, as the reader is repeatedlybombarded with new introductions that are not given a definition. Overall, Herbert's narrative technique provides an extraordinary amount of information which is enriching, but is also confusing to the reader who is forced to either wait for explanations, or try to interpret them using obscure clues.  Nevertheless, today Dune is considered to be the best-selling sci-fi novel of all time.
Despite the lack of definitions, Herbert's technique becomes more familiar as the story progresses, and eventually allows the reader to understand what each character thinks and feels consistently.  I actually got to enjoy the adventure and its mysticism much more when I read the book for a second time. It did, after all, take Herbert six solid years of research and writing to complete the work.  As he himself declared, "A man is a fool not to put everything he has, at any given moment, into what he is creating."
The five sequels to the original story that followed have also been well received:  Dune Messiah, Children of Dune, God Emperor of Dune, Heretics of Dune, and Chapterhouse: Dune. The first novel also inspired a 1984 film adaptation by David Lynch, and the stories were used in the production of two Sci-Fi Channel miniseries aired in 2000 and 2003.
While Frank Herbert is not considered to have reached the level of Philip Dick, their careers have been very similar. The two giants of science fiction writing, published early on a number of short stories for monthly sci-fi magazines such as Astounding Science Fiction, Amazing Stories and Startling stories which marked Herbert's debut  with "Looking for Something?" in April 1952. They both had their stories adopted into film to reach the peak of their popularit,y and they both grew spiritually at some stage in their lifetime. Currently, a great deal of their works' distribution is in the hands of the estates that oversee their interests and manage the release of material for new publications and film adaptations.
Interesting enough, our Rare Book Sale Monitor picked up a significant increase in pricing for the science fiction genre during the last quarter reported. A similar copy to the one that sold in 2011 (first edition and signed in good condition)  sold at the beginning of this year on Abebooks for twice the prior sale  amount – $15,000, leaping closer to the $20,000 total that Herbert earned  from Dune book sales between the years of 1965 and 1968.  By the way, $20,000 in 1968 is the current equivalent of $130,000 after adjusting for inflation, making Herbert's book a success story, considering that most science fiction novels came nowhere near such a payoff during that time.  Fortunately, the sci-fi collector should still be able to find a first edition, signed copy for around $10,000 as there are a few copies currently available.