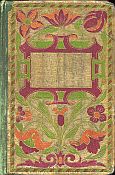 Ah, wouldn't it be nice if every book you came across contained a set of standard information no matter who the publisher is? It would be nice if antiquarian books contained a page similar to the one contained in modern editions on the copyright page, with the edition, printing, state, copyright date, date of publication, as well as a few collector desirables, such as the number of copies printed and all that important provenance. The truth is that we are far from an ideal universal book identification system, never mind having a date of publication always available.
Often times, a book is not dated or appears to offer no clear indication of the year of publication, and yet when you search for similar copies based on the information available, there seems to be a number of them with the year specified. How do research librarians, curators, literary historians, book dealers and so forth, get a book dated accurately when there is no date visibly showing inside the contents, covers or supplements of a book?  The following paragraphs describe the current state of technology, research tools and know-how when it comes to recovering missing dates of publication:
While some recent scientific advances in this area are described to be similar in nature to the genome project, almost any type of research conducted in determining the origins of a particular scarce publication, is considered to be more of an art than a science. The more recent technological advances have been in a research area referred to as print clock. This method of dating old books is based on the hypothesis, backed by observations that woodblocks and metal plates deteriorate in a clock-like manner during their lifespan. This system requires already dated books from the same printer as a baseline in order to compare successive editions that typically show more line breaks than earlier editions. There is a good deal of overlap between the "print clock" comparison process and some of the more traditional research practices.
The research methods used vary significantly from the examination of style of writing, binding or printing to the references of people or places that can be more precisely dated. More specifically, items like fonts, the type of paper used, a printer's watermark, bibliographies, photo acknowledgments, credits, ornamentation, decorative elements and other sources of information are closely examined for clues as to the time period, precise year or actual date of publication. Even when a book has a date of publication printed, some of these attributes may lead to a completely different date, perhaps due to a lack of adequate paper age-toning, or because of references in the bibliography to publications released after the posted date of publication. The end result of a good research almost always leads to more knowledge and a more accurate estimation.
Knowledge is power and an undated publication is lacking a key attribute.  Turning research into knowledge should be the ultimate goal for all aspects of bibliophile. The publisher is actually one of the most important sources to learn a great deal from.  Take, for example, the Henry Altemus publishing company that published, during the early 1890s and through the 1920s, a few series of multi-volume, multi-author reprints without any publication dates.  These series named  Vademecum, Petit Trianon and Beauxarts were published in beautiful decorated covers which also served as the date of publication. The pattern on the decorated boards was changed yearly, giving the only possible way to have the publication year for the books accurately determined. Without researching the publisher's website this important date indicator would have remained unknown.
  Despite all the technological improvements and the availability of much wider resources and research tools, we often come across the next best thing to a missing year of publication – circa.  It denotes an estimated date of around or about a certain year, usually abbreviated c. or ca, as in the example of books estimated to have been published around the 1900s or c1900. It would have been more useful to the antiquarian book community if, instead of circa, a range was adopted where a determined period was specified with "before and after" certain years. Circa has often times proven to be useless information or too vague, because the proximity to the year is undefined.  How useful or accurate is it to specify the year of publication as c1800, when the book was in fact published in 1849? It leaves a great deal of room for improvement while by definition it can never be considered as wrong information.