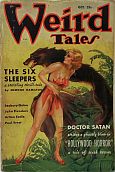 Without television widely available, the medium charged to provide bigger-than-life heroes, pretty girls, exotic places and strange and mysterious villains was in the form of low quality paper between beautifully decorated covers. It was the early twentieth century and "pulp magazines" were the breeding ground for much of the creative work of the times. The stories of Conan, Tarzan, Shadow, Weird Tales, Doc Savage and so forth attracted mass audiences and provided entertainment for decades to come.
In 1923, a publication with the mission "to publish brilliantly strange material that can't be found elsewhere," was formed under the name Weird Tales.  Today the magazine is known for launching the careers of great authors like H.P. Lovecraft, Ray Bradbury, and Robert E. Howard, as well as legendary fantasy artists like Virgil Finlay, J. Allen St. John and Margaret Brundage.  These and other great writers helped change the landscape of popular fiction and helped define the science fiction story into what it is today.
H.P. Lovecraft (1890-1937) was possibly the greatest author ever to appear in Weird Tales.  Among his creations are the fabled Necronomicon and the mythology masterpiece known by Cthulhu Mythos.  Today, it is widely accepted by critics and it has deemed Lovecraft as the 20th Century's greatest writer of the supernatural. On the artistic side, Brundage sold 66 original pulp cover illustrations to Weird Tales from 1933 to 1945. Her work often featured fantasy scenes of women trapped in sexually vulnerable situations. Brundage covers were very popular with the readers of Weird Tales, who were not aware of the artist's gender, as she would usually sign her work as "M. Brundage."
Even though the original magazine operation lasted until 1954 with 279 issues released, there were several brief interruptions and attempts to revive the publication which is currently run by Viacom International Inc. Pulp magazine collectors are focusing on the early editions filled with stories by Lovecraft and company and post 1933 issues carrying Brundage's art. The 1940's contained Bradbury's contributions, while playwright Tennessee Williams was introduced into print for the first time (with his story "The Vengeance of Nitocris") in August 1928. In May 1924, the magazine was the subject of much controversy after C. M. Eddy, Jr.'s story, "The Loved Dead," briefly mentioned necrophilia. Weird Tales was removed from several newsstands as a result, but the publicity skyrocketed sales helping save the imperiled magazine from bankruptcy.
Financial problems especially in the 1920s and 1930s caused the magazine's business manager, William Sprenger, to struggle to keep the enterprise afloat. It is estimated that the monthly circulation of Weird Tales, at the time was maintained below 50,000 copies. While viewed as a significant number compared to some limited edition rare publications, it is nevertheless a fraction of the circulation of some of the more successful pulp magazines such as Tarzan, Shadow and Doc Savage.  Another factor limiting the supply of "pulps," as they are more commonly referred, is the durability of the raw material used. Unlike the "glossies" that were printed on better quality paper, the pulps are extremely venerable to the elements.
It is not surprising then that some of the earlier scarce issues have reached astronomically high levels of pricing. A $1,000 price tag for a magazine that was first offered at 25 cents represents a phenomenal appreciation in value. Given the age and flimsiness of the first issues, a great deal of emphasis is placed on condition. A well preserved copy is usually considerably more valuable than a copy that is torn, stained, mishandled and so forth. A close physical examination is a requirement when dealing pulps.
For those interested in finding out more about collecting Weird Tales, Susan Krinsky of Brandywine Antiques & Books of Amherst NH, will be at the Boston International Antiquarian Book Fair at the Hynes Convention Center on November 16. Susan will be speaking about her personal collection, a great deal of which is available for sale, as part of a panel discussion – Women in the Book Trade & Their Collections.  I will see you there.