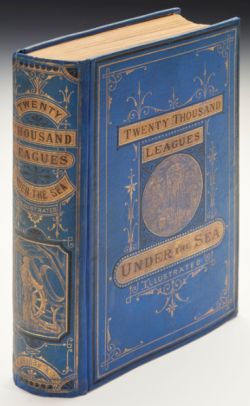 Do Jules Verne's works categorize as science fiction? The French author who has been called the "Father of Science Fiction", along with authors such as H. G. Wells, Hugo Gernsback, Lucian of Samosata and Mary Shelley, often argued against classifying his novels as scientific. In fact, he has often been labeled a writer of genre fiction or children's books, largely because most of his books' English translations were bowdlerized. Many translators attempted to dumb down the prose, resulting in errors, abridgment, and even censorship.
The reality was that whereas many science-fiction writers set their stories in the distant future, Verne typically placed his in the present with indisputable scientific accuracy. He took the time before writing his stories to research; to take numerous notes from every book, newspaper, magazine, or scientific report that was presently published. Such discipline in his writings caused his initial popularity in France by parents who saw his stories as educational tools. He, in fact, was a founding father of a subgenre known as "hard Science Fiction," because he emphasized technological accuracy and scientific detail.
In 1863, Verne published his first book, "Five Weeks in a Balloon (Cinq Semaines en ballon)," in Paris, with an illustrated edition appearing in 1865. The book was an absolute success; readers were unsure whether they were reading fact or fiction. He continued to write some of the world's best science fiction adventures: "Journey to the Center of the Earth (Voyage au centre de la Terre)," published in 1864; "From the Earth to the Moon (De la Terre à la Lune)," published in 1865, which was also the basis for the first ever Science Fiction film, the 1902 "La Voyage dans la Lune." "Around the World in Eighty Days (Le Tour du monde en quatre-vingts jours)," published in 1873, is one of the best-selling novels of all time and is considered to be his most successful work in fiction.
While none of Verne's famous titles have been out of print, one edition stands alone as being the rarest. "20,000 Leagues under the Sea (Vingt Mille Lieues sous les mers)," published in 1869, was translated from the French and released in America in November of 1872. The first issue of the American edition published after the British edition, in Boston, by James R. Osgood, carries a gilt-stamped illustration of a jellyfish on the front cover and Captain Nemo on the spine. The final 's' in 'Seas' is lacking from the titles. Such errors as well as omitting almost a quarter of the original text, was the fault of the translator, Lewis Page Mercier.
Rare book collectors of science fiction, value the politically incorrect translation of "20,000 Leagues" highly due to its extreme scarcity. Osgood's manufacture was bound from the English Sampson and Low sheets that preceded it in the same month and was mysteriously curtailed with very few copies put in circulation. Arthur B. Edwards, author of "Collecting Jules Verne," (Firsts, vol 6, no 7/8, 1996) estimates that there are only about 15 copies of this true first American edition known to exist today. Speculation is that most were destroyed in the Great Boston Fire, which occurred in November of 1872, the same month as publication.
The few copies that are available for sale on-line, are posted with an ask price of around $10,000. A copy sold at Christie's in 2001 for $8,812 while a similar copy in slightly better condition, sold again by Christie's in 2005, a century after Verne's death, fetched $24,000. Sotheby's will be auctioning another copy on October 20th, in London, during "The Library of an English Bibliophile, Part VI" event. Lot #180 is set at an estimated 6,000 – 8,000 GBP, a price that does not seem to reflect the effect that the Brexit vote had on the British currency.