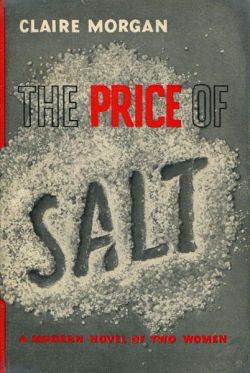 There is no doubt that 20th-century genre novels which inspire unforgettable film productions, are on collectors' target lists. And there is no better group of novelists that continue to inspire an endless procession of films than the ones that include Stephen King, J.G. Ballard, Phillip K. Dick, Elmore Leonard, and of course, the ringer of American women crime writers, Patricia Highsmith. The fact that a number of her works were adapted into successful film productions, with A-list actors has helped make posterity's cut with editions that are still in print, and first editions that are scarce and pricey.
Patricia Highsmith, who is primarily remembered for having written "The Talented Mr. Ripley" in 1955, and its four sequels: "Ripley under Ground" in 1970, "Ripley's Game" in 1974, "The Boy Who Followed Ripley" in 1980 and "Ripley Under Water" in 1991, started her novel-adaptation career in 1951, with "Strangers on a Train." Hitchcock directed the film which was based on Highsmith's book with the same title, published a year before. The success story, however, remains with the books of the "Ripliad" saga, with the first three books in the series having been adapted into films five times:
In 1960, "The Talented Mr. Ripley" was adapted as the French film, Plein Soleil, (Purple Noon) , directed by René Clément and starring Alain Delon as Tom Ripley.  Then, in 1977, the German-language film Der Amerikanische Freund ,(The American Friend), based on "Ripley's Game" and a fragment of "Ripley under Ground", directed by Wim Wenders, with Dennis Hopper as Ripley.   Again in 1999, "The Talented Mr. Ripley", was adapted as an American production, directed by Anthony Minghella, with Matt Damon as Ripley.  "Ripley's Game", was adapted in 2002, in an English-language Italian production, directed by Liliana Cavani ,with John Malkovich as Ripley. And finally, in 2005, "Ripley under Ground," directed by Roger Spottiswoode, with Barry Pepper as Ripley.
Creating characters that are believable in a world of bruised romanticism, lies the enduring attraction that film noir thrives in. There is no better example than Highsmith's 1952 second novel, "The Price of Salt", published under the pseudonym Claire Morgan, and republished as "Carol", in 1990, under her true name. The Oscar-nominated film adaption also titled Carol came in 2015, written by Phyllis Nagy and directed by Todd Haynes, and starred Cate Blanchett and Rooney Mara. Because Highsmith wove such intricate tales of abnormal psychology with terse and declarative language, her work lends itself easily to cinematic interpretation. In the 1954 novel,"The Blunderer" for example, the protagonist and tormentor are drawn against their wills into a co-dependent relationship; a condition known by therapists as folie à deux.
Successful film productions that are based on novels often have the effect of steering awareness towards the author's work, despite a lack of readership immediately after publication. Unlike most women crime writers of the time, Highsmith was fortunate enough to gain exposure from Hitchcock's production of her "Strangers on a Train," right after the book got published by Harper & Brothers. Furthermore, a large number of films which were based on her books were produced in foreign languages, which helped boost international awareness of her work:  In 1963, "The Blunderer", was adapted as the French-language film, Le Meurtrier; in 1977, "This Sweet Sickness", was adapted as French-language film, Dites-lui que Je l'aime; in 1978, " The Glass Cell" was adapted as German-language film, Die gläserne Zelle; in 1981, "Deep Water" was adapted as French-language film, Eaux profondes;  in 1983, "Edith's Diary" was adapted as German-language film Ediths Tagebuch;  in 1986, "The Two Faces of January" was adapted as German-language film Die zwei Gesichter des Januars; in 1987, "The Cry of the Owl" was adapted as French-language film, Le Cri du Hibou; and,  in 1989, "The Story Teller" was adapted as German-language film Der Geschichtenerzähler.
Beyond film production, collector interest is also fueled by censorship. Highsmith's only major work that does not contain actual murder, is the "The Price of Salt",which was published by Coward-McCann in 1952, at a time when it was illegal to publish or distribute content about gay people. Originally published in small numbers, the novel sold more than a million copies after being released as a 25-cent Bantam paperback. For decades Highsmith publicly disavowed the book, though she agreed to a new edition in 1990, without the pseudonym.  The semi-autobiographical work, noted for many years as the first love story between two women with a happy ending, is the scarcest of all of her titles. Of the 20 copies held in US institutions, fewer than 15 are in special collections. GRIER p.111 1.
Highsmith's rare book  track record provides the ideal exhibit of the influence that the factors of: film adaptation, censorship, and internationalization can exert on collectible book price appreciation.
1 Lesbian in Literature: A Bibliography (Paperback), Grier, Barbara. Naiad Pr; 3 Rev Sub edition (January 1981)