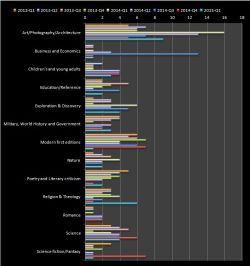 Historically, the 4th quarter of the year is undoubtedly the strongest in sales of rare books. 2017 was no exception. We have come to realize through the years, that there are some aspects of the rare book trade that have been unlikely to drastically change. Thank human nature for that! On average, the October-December period has treated book sellers very well. We have gone back three years, starting in 2015 to present to you the remarkable history of the fourth quarter, as recorded by high spot on-line sales.
While the 4th quarter average for on-line sale prices for "blue chips", in the rare book marketplace during the last three years has remained almost the same, it is consistently 10-20% higher than what had been recorded in all of the three prior quarters in each of the corresponding years. On average, the buyers in this market segment, spent over $20,000 for some of the scarcest books available for sale. These most collectible editions of the rare book trade were not limited to just the old, antiquarian, seminal variety. Some were one of a kind signed; association copies, sometimes having a very desirable provenance. At the very least, they are scarce first editions; first issue of important, original, limited availability, collectible authors', artists' works.  The presence of certain physical and intrinsic characteristics is of utmost importance with condition, which is crucial in the majority of sales, sometimes taking a secondary influence in sales of these scarce, one-of-a-kind treasures.

Indeed, the end result for the years analyzed are almost identical. A closer examination of the individual items traded, however, reveals that this elite category of books is in-fact moving slowly towards extinction. As recent as three years ago, books that traded for $15,000 or more were about 20% more ample than those traded during the most recent year. Interestingly, more books were traded at the $15,000 or above price level, three years or more ago, than during 2017.  During this time there has been an increase in the number of sales of high spots, priced at $5,000 and above, while the number of sales of books priced $15,000 and above, have decreased over time. This trend, has let us to conclude that the very high-end of the market is becoming scarcer, while a larger number of high-end purchases has shifted to the runner up of secondary ranking.
In any event, our Rare Book Sales Monitor (RBSM) captured the genre, author, and artist price changes with the biggest impact during this past fourth quarter, of 2017. History tells us that there is something about the fourth quarter that forces us to consider that, regardless of the market's stresses and deficiencies, the end of the calendar year has an upward bias.  Our focus now, is on 2018, which is projected to be relatively similar to prior years with a very slight variation. And while there is no telling what will actually occur for the rest of 2018, we must recognize and account for the historical tailwind that the final three months of the year is certain to bring. It, is therefore quite safe to declare, that we have no expectation of drastic shifts in the rare book market; a market characterized as being "slow but steady."