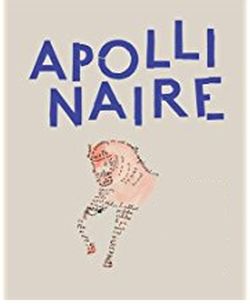 November 2018, will mark the Centennial Anniversary of the end of the Great War. In April, 1918, French poet, writer, critic and theoretician of art, Guillaume Apollinaire, published his work subtitled "Poems of Peace and War 1913-1916" under the title Calligrammes. This collection of poems is very special and unique for a number of reasons:
First, the composition of the poems was inspired by events that took place during World War I, including the poet's war injury, in 1916. The complete work was dedicated to his friend and fellow writer, René Dalize, who died on May 7, 1917, in battle, at Chemin des Dames.
Second, the composition of the poems included calligrams: – text visually arranged in a way that forms an image associated with the text's contents and is enhanced through the use of handwriting. Apollinaire, influenced by figurative poems from Greek Antiquity and the Renaissance, wrote what he called "lyrical ideograms" before inventing the word "calligramme." In those days, publication of his manuscripts was made possible through the use of "cliché", a typography method that allowed reproduction in large numbers with the use of metal plates bearing the imprint of the calligrams.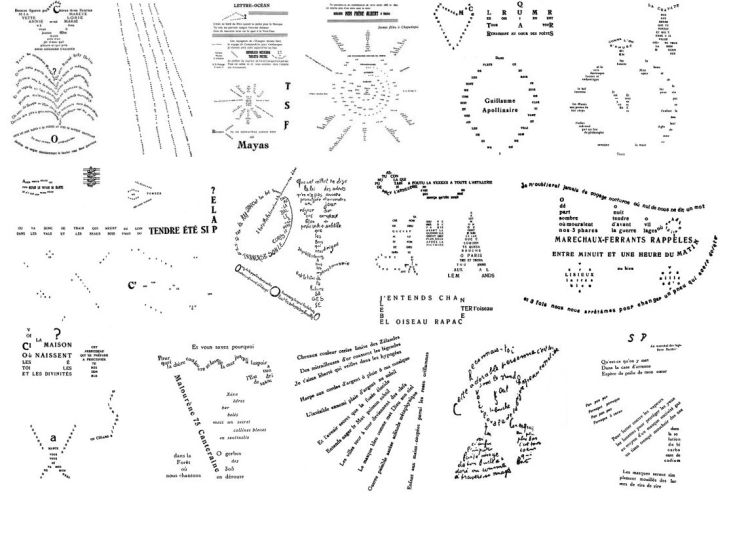 And thirdly, each verse, stanza, sonnet, and rondeau had a specific typeface or lapidary arrangement of words on the page, which added to the meaning of the compositions. There were no free verses left isolated, without association to the totality of the work. Multiple artistic compositions united into a poetic expression.
The first edition of the Calligrammes, was published on April 15, 1918, in Paris, by G. Roy for Mercure de France, in paperback form to an unspecified print quantity. It had 205 pages, and a portrait of the author by Pablo Picasso, engraved on wood by R. Jaudon. A second edition was published shortly after Apollinaire's death, in November 1918, the same month that World War I came to an end. The limited availability of the first edition trades for €1500 – €2000.
The collection is composed of six parts: "Ondes", "Étendards", "Case d'armons", "Lueurs des tirs", "Obus couleur de lune" and "La tête étoilée". The order of the poems in the collection evolved throughout the period of creation of the work. Reading of a calligram is like a balancing act: first we see a drawing, like a painting, and then we proceed to read it without any indication of where to begin. The capital letters seem like the start of a verse, but then, which direction does one follow? The image seems to match the translation of the text, and apparently there is no reading rule, from left to right, or from top to bottom. Apollinaire provided the tracks; the reader seeks the meaningful interpretation.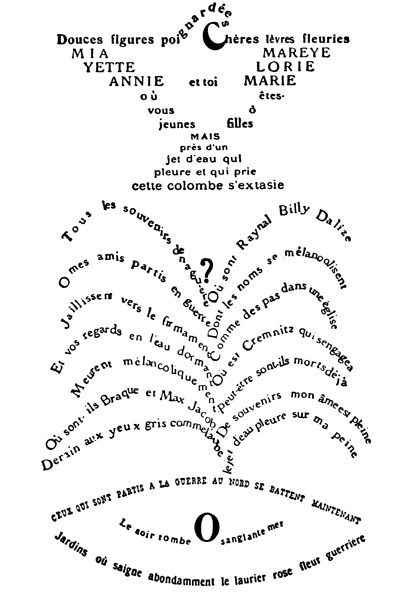 Gentle stabbed faces
Dear floral lips MIA MAREYE YETE LORIE ANNIE and you MARIE where are you, young girls?
BUT near a fountain that cries and prays this dove is in rapture
All memories of the past
O my friends gone to war
Gush towards the sky
And your glances in the water
Die feeling melancholy
Where are Braque and Max Jacob
Memories my soul is full of
Derain with gray eyes as dawn
Where are Raynal Billy Dalize
Whose names are melancholy
Like steps in a church
Where is Cremnitz who pledged
Maybe they are dead already
Memories my soul is full of
The spurt of water cries over my pain
Those who went north to war are fighting now
The dusk falls oh bloody sea
Gardens where profusely bleeds the rose laurel, warrior flower
Greatly influenced by Cubism and Futurism, and by Gide and Albert Thibaudet, Apollinaire, abandoned normal typographical conventions, and viewed the page as a canvas on which he drew with letters, arousing the visual imagination. British poet, literary critic, biographer and astrologer, Martin Roger Seymour-Smith, in his 1998 book, The 100 Most Influential Books Ever Written: The History of Thought from Ancient Times to Today, wrote of Apollinaire's Calligrammes: "In the erotic poems, describing the simultaneity of battle action and sexual desire, he displays an insight into the nature of male sexual desire perhaps unique in twentieth-century poetry…"