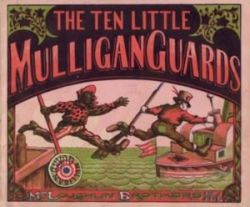 More than 100 years before the invention of educational gaming software, there were "novel and game," educational board games which came complete with game pieces and instruction booklets, and were often accompanied by the novels which provided the basis of such creations.  Educational resources that combine gaming and education into one can be very effective tools in motivating children to learn. A number of small-scale presses are targeting educators' curricula which combine learning with fun activities. These presses have been republishing old picture books, by repurposing antiquated texts.
In the United States, before companies such as Parker Brothers and Milton Bradley popularized board games, publishers such as Elton & Co., (active 1840-1851), and McLoughlin Bros.,(active 1858-1920), printed and issued toy books, comic almanacs, valentines, cheap chapbooks, large folio picture books, linen books, puzzles, games, mechanical paper toys and paper dolls. The New York publishing firm,  McLoughlin ,employed illustrators such as Thomas Nast, William Momberger, Justin H. Howard, Charles Howard, Palmer Cox, and Ida Waugh to pioneer the systematic use of color printing technologies in children's books and games. They also integrated religious topics into their products in an attempt to teach children proper behavior and religious beliefs.  John McLoughlin, Jr.'s death in 1905 caused the firm to suffer from the loss of his artistic and commercial leadership and in 1920, McLoughlin Bros., Inc. was sold to Milton Bradley. The Brooklyn factory was closed, and game production ceased.
The McLoughlin line of children's books was sold to Grosset & Dunlap in June 1954. Since that date, several books bearing the McLoughlin Bros. imprint were issued, but the name dropped out of print by the 1970s. Since 1970, McLoughlin products have enjoyed great popularity with collectors, and their visibility continues through displays at book fairs and in catalogs, like New York book dealer Justin Schiller's Catalogue 35 (1978), devoted to the McLoughlin wood engraving blocks.1
The McLoughlin book and game combinations set the standard in gorgeous artwork. Their games featured beautiful chromolithographs, lithographic box covers, hand-spinner and playing boards, beautifully designed, during an era lacking modern innovations. Today, they are quite scarce, especially the ones in good condition. Games were made to be played primarily by children whose enthusiastic hands would often be the cause of severe deterioration to the attractive condition of the original. The limited, surviving copies usually come in below average condition, with leaves or pieces missing, loose joints, tape repairs, and  re-glued with scribble marks or stains. As a result, the fewer in better condition are sought by the serious collectors, and are rarely a bargain.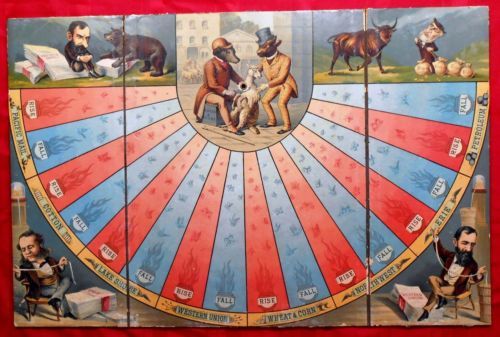 One of the most popular, (and highly collectible games, today) , is The Game of Bulls and Bears – The Great Wall Street Game. The Game of Bulls and Bears was introduced by McLoughlin Brothers in 1883, and was based on the financial panic that occurred 10 years earlier. On the corners of the board, are caricatures of ultra-rich railroad magnates William Henry Vanderbilt and Jay Gould, along with notable successful investor Cyrus W. Field. The complete game in good condition trades for over $25,000.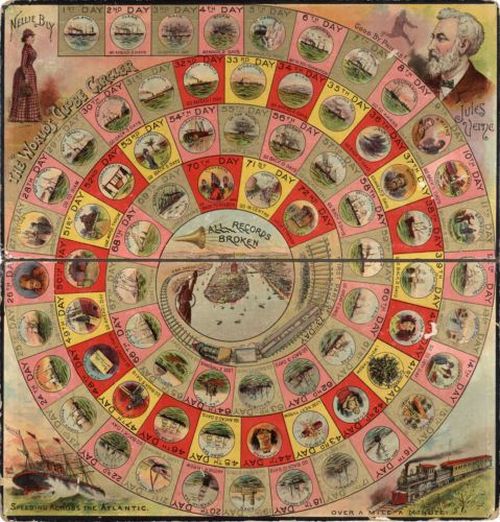 One of the most popular games, again by McLoughlin, is Round the World with Nellie Bly, released in 1890. The vibrant chromolithographed board game, featured the 72-day around the world trip, completed by 25-year-old Elizabeth Cochrane ,(also known as Nellie Bly), in 1889. Inspired by Phileas Fogg, the hero of Jules Verne's 1873 novel, Around the World in Eighty Days, feminist reporter Bly, traveled alone from Hoboken, New Jersey to London, made her way across Europe, Asia and the Pacific, and raced back to New York via train to complete her circumnavigation in 72 days, a world record. This particular collectible can be found trading for around $500, because it is a lot more common than its 1883 counterpart.
1 Laura Wasowicz, Curator of Childrens' Literature
http://www.americanantiquarian.org/mcloughlin-bros