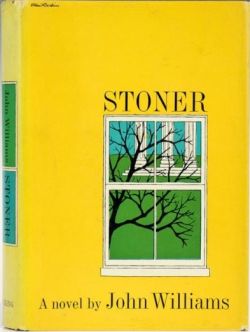 Factor #1: Scarcity in supply.
The year was 1965; the war in Vietnam was escalating, the space race was in full swing, and the Rolling Stones were on a world tour. America's counter-culture movements were embracing drug use, liberal sexuality and obscenity in their writings and works. It was during this year that a novelist by the name of John Williams, published Stoner, a novel that is not about a Bob Dylan fan acting as an executioner, who believes that "everybody must get stoned". In fact, Dylan's 1966 song, "Rainy Day Women ♯12 & 35", with the recurrent chorus, "Everybody must get stoned", had not been yet released when Stoner hit the bookstands. Despite the contemporaneousness of Stoner's title to the prevailing culture of the time, the book did not manage to sell more than 2000 first edition copies.
Factor #2: Best seller status
Factor #3: Global interest
The book was reissued in 2003, by Vintage, and in 2006, by New York Review Books Classics, with an introduction by the prominent Irish writer John McGahern. It was not until 2011, when the book delivered sudden success with a new French edition, published by Le Dilettante and translated by Anna Gavalda that alerted other publishers to its possibilities. Since then, it has sold 200,000 copies in Holland and 80,000 in Italy. It has been a bestseller in Israel, and is just beginning to take off in Germany. Though Williams died in 1994, his widow is, happily, now enjoying the worldwide royalties. Rights have now been sold in 21 countries, with Stoner just launched in China.
Factor #4: Book dealer wanted list
Factor #5: Abnormal price increase
In the meantime, the first edition of Stoner that could be bought for less than a few hundred dollars in 2011 is now trading for more than $2000. A price appreciation of roughly 10-fold plus, within such a time frame of merely a few years does not remain unnoticed for too long. Our Rare Book Sale Monitor reported last quarter, that there was a continuation in interest by collectors despite the steep increase. The dynamics that turned the first edition of this title into a scarce commodity were set in motion before the book was picked as Waterstones' Book of the Year in 2013, and sometime after McGahern had recommended it to the publisher, Robin Robertson in 2003, are still very much alive.
Factor #6: Movie Adaptation
Stoner;  the story of a poor farmer in the early 1900s who becomes a scholar and faces a series of frustrating challenges and disappointments in his chosen career path is in the process of being adapted into film. Directed by Joe Wright with screenplay by Andrew Bovell, and staring Casey Affleck and Tommy Lee Jones, Stoner the movie is expected to be released next year. Because the novel is so beautiful but not well-known, a blockbuster at the Big Screen is bound to generate more demand for the most collectible editions.
Factor #7: Future prospect
What else is left for Stoner to attain in its journey to an even brighter spotlight? Signed editions are selling for over $7,000 but those are really, really scarce. Even though, Modern First editions specialists who know who owns the most collectible copies, have legions of staff digging through catalogs, historical files and publications in the hopes of new discoveries, availability is not likely to change. Pricing the scarce signed editions can be very tricky due to lack of comparable sales. Book dealers rarely, if ever, disclose the prices of the works they sell and Stoner does not have much of a track record in auction activity. Given the limits in supply, continued growth in demand and lack of a precise baseline in valuation, the potential for future price appreciation looks extremely promising.