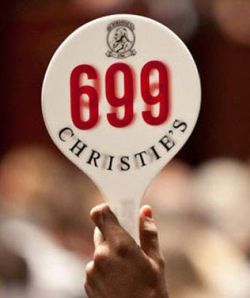 When an auction generates astonishing excitement in view of both the quality and quantity of books being offered, the excitement is also reflected in the prices realized. Even if the prices are often unrealistic, for many buyers, the auction remains a remarkable event that is worth the extra expense. High emotions are exactly the ingredients that auction houses are hoping and aiming to arouse. Excessively high bidding, the result of auction fever, is fueled by emotions such as pride, anxiety, desire, determination, stubbornness, and even hatred.
When Henry M. Blackmer II, died in 1988, his family arranged with Sotheby's one of the most fabulous auctions on the eastern Mediterranean. A collection of 2000 books, pertaining to Greece and the Levant, covering a period from 1475 to 1900.  The bibliography was published in a limited edition catalog of 300 copies entitled: Greece and the Levant. The Catalogue of the Henry Myron Blackmer Collection of Books and Manuscripts. At that time, it was selling for £150 ($225), a copy. It now sells for more than $3000. What made the auction even more impressive than its contents, was the type of bidders it attracted. Besides the usual collectors and dealers drawn to the sale, there were representatives from three countries: Greece, Turkey and Cyprus. Fueled by national pride, the event sold its lots for more than $8,000,000, which was well over its original estimates.
The Rare Book Sale Monitor (RBSM) does not include auction results in computations of its book sales trends. Exceptional price fluctuations caused by emotional factors are difficult to measure and attribute. The historic auction results of a most important item; the Audubon, John James's The Birds of America; from Original Drawings London: Published by the Author, 1827-1838, provides a great example. While the auction house estimates reflect an expected, gradual increase in the price of the book over time, the actual sale results have been quite erratic. After the record breaking sale in London in 2010, the following two sales, for the exact same copy, jumped from 7.5 to 9.65 million dollars within a six year interval. A very nice appreciation indeed!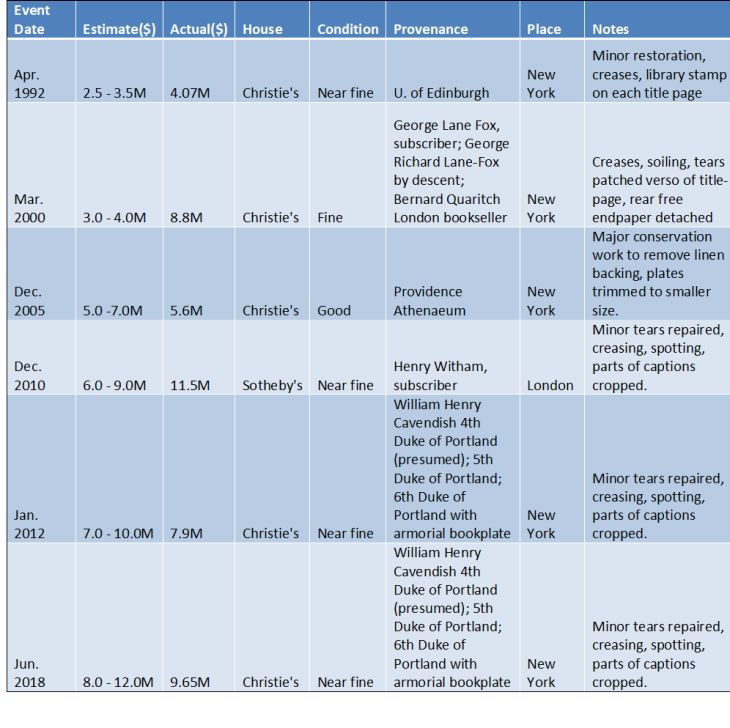 It does take a singular auction, however, to feed frenzy and skew price appreciation/depreciation measurement the wrong way. Invariably, the RBSM recorded the appreciation of its genre, author, and artist trends, strictly using on-line and book fair activity for the 2nd Quarter of 2018.