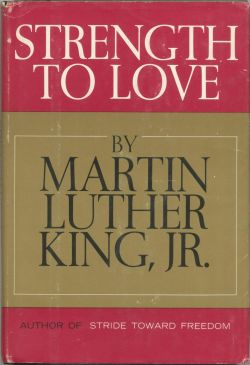 In the month of August 1963, in front of the Lincoln Memorial in Washington D.C. and with a crowd of over a quarter of a million people, Martin Luther King Jr., delivered his most famous speech, "I Have a Dream." In that same month, King's first printing of a collection of his sermons titled, "Strength to Love," was published by Harper & Row.
The book has historical and religious importance. It is credited with changing the lives of numerous people by focusing on the central element of Dr. King's philosophy of nonviolence to overcome evil. His eloquent speech has endured as one of the signature moments of the civil rights movement, which, on July 2, 1964, ended segregation through The Civil Rights Act;  a landmark civil rights and labor law in the United States that outlawed discrimination based on race, color, religion, sex, or national origin.
In these short, timeless, meditative sermons, some of which were composed in a Birmingham jail, and, all crafted during the turbulent years of the Civil Rights struggle, Dr. King shared his vision of God and redemptive love. A basic idea in Christian theology is that God and mankind need to be reconciled. Theologians have long been debating on how the death of Jesus achieved this reconciliation. King preached and demonstrated that Jesus' death on the cross meant to show us that the way to defeat evil is by nonviolence and surrender. In his own words,"…And oh, that cross to me is a demonstration of something. It is triumph, isn't it? It is not only tragedy, but it is triumph. It is a revelation of the power of God to ultimately win out over all of the forces of evil"1.
First editions of the book Strength to Love, remain reasonably priced, except the ones that King had signed in person. True autographed copies are quite scarce as many of the signed first editions were signed by King's secretary while others were stamped with a facsimile inscription. First issue dust-jackets are identified by the $3.50 price inside the front flap along with the code 0663 at the bottom right corner. Harper used dust jacket codes to establish the original printing date, which, prior to the Row merger was a non-descript sequential code. After the company became Harper & Row the nomenclature changed to become a four digit code representing the month and year of original publication. However, having the code alone does not constitute a first printing identification point, although it certainly is present on first editions. The first printing also has on the copyright page, underneath the "First Edition" specification, the Harper & Row publisher's identification month-year code:  D-N. Harper & Row uses the following coding system:
Months
(the letter "J" was not used)
A=January
D=April
G=July
K=October
B=February
E=May
H=August
L=November
C=March
F=June
I=September
M=December
Years
(the letter "J" was not used)
M=1912
B=1927
R=1942
G=1957
N=1913
C=1928
S=1943
H=1958
O=1914
D=1929
T=1944
I=1959
P=1915
E=1930
U=1945
K=1960
Q=1916
F=1931
V=1946
L=1961
R=1917
G=1932
W=1947
M=1962
S=1918
H=1933
X=1948
N=1963
T=1919
I=1934
Y=1949
O=1964
U=1920
K=1935
Z=1950
P=1965
V=1921
L=1936
A=1951
Q=1966
W=1922
M=1937
B=1952
R=1967
X=1923
N=1938
C=1953
S=1968
Y=1924
O=1939
D=1954
 
Z=1925
P=1940
E=1955
 
A=1926
Q=1941
F=1956
 
It is important to point out that the date on the first issue dust jacket and the date on the copyright page were often times variably different with Harper & Row releases. The dust-jacket date on the front flap was trailing the copyright printing date by one or two months in numerous titles. This code printed inside the dust jacket was consistent between different printings of the same title, so it cannot solely serve as a first printing indicator. The two used in conjunction provide the most accurate indicator.
On March 31, 1968, Dr. King preached at the Washington National Cathedral.  It was his last Sunday sermon before being shot and killed on April 4 1968. Five years prior to that, at the Lincoln Memorial, George Raveling, a college basketball player at Villanova, was on the podium with King during his most important speech in history, having volunteered to provide security. Raveling asked King if he could have a copy of the speech. King handed him the original typewritten "I Have a Dream" pages which he currently has locked away. Its actual value is to be determined by the highest bidder if and when the historical artifact is made available for sale.
1"A Walk Through the Holy Land, Easter Sunday Sermon Delivered at Dexter Avenue Baptist Church"
 King, Martin Luther, Jr.
 March 29, 1959
 Montgomery, Ala.