Sotheby's Contemporary Art Evening Auction, which will take place in London on the 3rd of October 2019, will offer a Jean-Michel Basquiat acrylic, silkscreen ink and oil stick on canvas titled "PYRO", signed and dated 1984 on the reverse. This is the highlight of the event and is estimated to sell for …….., "Estimate upon Request," which means you will have to contact Sotheby's directly.  A dynamic estimate, perhaps, which may fluctuate, based upon the buyer interest shown, is part of this event's marketing plan. Nevertheless, we will not have to wait too long before the price realized is revealed.
Auctions are supposed to help us figure out the valuation of a unique collectible at any given time through the winning bid amount placed by the high bidder. Most of the paintings brought to market at events such as the Sotheby's Contemporary Art Evening Auction, are at auction for the first time, and yet, through some algorithmic evaluation, an estimated range is determined and posted in the catalogue. Often times the range proves to be on the low or high side, but, it is printed for potential buyers to consider.  
Similarly, the bookseller who sells through an auction without a reserve may or may not have an approximate range that a particular collectible is expected to trade. Besides auctions, in most other channels, a bookseller is required to provide the ask price for a particular collectible in order to bring it to market. If the asking price is too low, then money is left on the table. On the other hand, a price set too high carries the risk of remaining unsold. The other variable in the evaluation is time. As time goes by, the market conditions of supply and demand usually tend to shift, affecting the price higher or lower. In order to increase the chances of a book being sold in the short term, the asking price should be set at the low end of the estimation, while longer timeframes offer the luxury of being able to test the market at the high end of the estimation. Time allows for the price to be lowered.
Given the particular conditions in which a sale is brought to market, it is always a good idea to assess the price estimate as accurately as possible. A good evaluation makes use of comparables, factoring in any differences between each of the comparables and the book assessed. As such, the rarer the book, the more the price becomes a matter of opinion for two reasons: First, there is not adequate information available to accurately evaluate, and second, books that are scarce and extremely desirable do not stay in stock because collectors are willing to pay any price for something they want. For some considerations on pricing rare books, please read our prior post, "Pricing your rare books to market" by data scientist, James Sekkes.
Works of Jean-Michel Basquiat have been sold at auction before, but nothing closely resembling the dynamism and vitality of PYRO on such a medium. The literatures referenced by Sotheby's, that include this work are quite scarce as well, and are selling for over $1,000, no matter the edition:
Richard D. Marshall and Jean-Louis Prat, Jean-Michel Basquiat, Galerie Enrico Navarra, Vol. II, Paris, 1996, p. 124, no. 8.
Richard D. Marshall and Jean-Louis Prat, Jean-Michel Basquiat,  Galerie Enrico Navarra, Paris 2000 (3rd edition), p. 224 (Vol. I) and p. 198, no. 8 (Vol. II).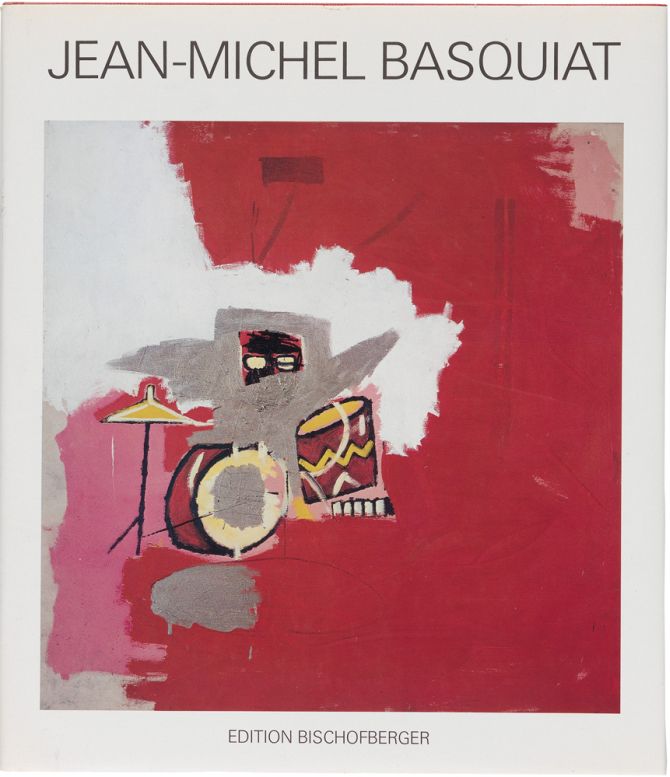 Books signed by Basquiat are extremely rare and desirable due to high demand and the artist's early death from a drug overdose in 1988, when he was just 27 years old. The most famous signed book is a hardcover catalog that accompanied the artist's exhibition at the Galerie Bruno Bischofberger, (Bischofberger was Basquiat's European representative from 1982, and was his most consistent dealer until his death), published in Zurich in 1985. The trade edition consisting of 1,000 copies carried Basquiat's scribble signature. One such copy sold at Swann Galleries in April of 2018, for $2,500. An additional 100 copies signed by Basquiat with his full name were also released. The "a.p. 2/100" copy is currently valued at $19,000 – $24,000 and this seller will entertain offers at the high end of the price range.