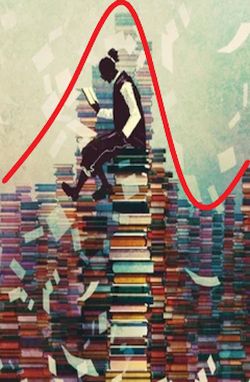 While much of the world has come to a stop at times during the pandemic, the rare book trade, confronted with challenges of its own, managed to finish the year without a major loss. It was, however, especially painful for rare book sellers – at least physically – who normally depend on in-store, in-person book fair sales. At Indie bookshops, official lockdowns and social distancing requirements forced many sellers to shutdown, isolate and go virtual when possible. In addition, many buyers chose to self-quarantine because they were at high-risk or wanted to help stop the spread, remaining active only on virtual shows and on-line marketplaces. For some collectors, stuck at home and in need of distraction and escape, finding books to collect suddenly felt more vital than ever.
Year 2020 will go down as the year of on-line trades. While virtual book fairs managed to attract global attendance of both buyers and sellers, it was the on-line marketplaces such as Abebooks, Biblio, AntiqBook, Ebay, Amazon etc., which saw rare book sales grow. Abebooks for example, reported an 18.7% increase in sale prices from the year before, for its most expensive books.
This pandemic has affected thousands of people; those that are sick or those that are dying due to the spread of this disease. While not exclusive due to Covid19, the year sadly marked the end of the lives of the following important authors:
Tomie dePaola, celebrated author and illustrator of over 270 books, including Strega Nona, at the age of 85;
Elizabeth Wurtzel, author of Prozac Nation, at the age of 52, from complications from breast cancer;
Charles Webb, best known for his debut novel, The Graduate, which was adapted famously into the film starring Dustin Hoffman, at 81 years of age;
Ruth Weiss, the pioneering female poet of the Beat Generation and one of the first people to perform jazz poetry, at the age of 92;
Diane di Prima, a poet of the Beat Generation, one of the last surviving members of that famed group of poets, at 86;
Winston Groom, who wrote Forrest Gump, was 77;
And last but not least, legendary spy novelist John le Carré, an "undisputed giant of English literature," died on December 12, at the age of 89.
Poetry was celebrated in 2020 with the Nobel Prize in Literature award granted to Louise Glück, "for her unmistakable poetic voice that with austere beauty makes individual existence universal." Her first book of poetry, appropriately titled, Firstborn (1968), recognized for its technical control as well as its collection of disaffected, isolated narratives, more than doubled in price after the announcement. Prices of first editions and signed copies surged overnight. In general, however, poetry underperformed during the year, falling short of the heights reached in 2017, with the help from instapoets who combine poetry with images, to create highly shareable posts on social media platforms.
During this exceptional year of on-line sales, the popular genre of Modern Firsts, Children's and Young Adult, have done particularly well boosting prices for collectibles by Ian Fleming and J.K. Rowling. Interestingly, the finest works by American writers of African descent, have also been in great demand. Black authors like Zora Neale Hurston, Langston Hughes, James Baldwin, Toni Morisson, Ann Petry have seen resurgence in sales. In general, authors who engaged deeply with aspects of the Black American experience, from the institutional shadows cast by slavery to the failures of a criminal justice system, were in demand during 2020.