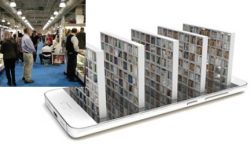 Aaah, it's that wonderful time of the year when New England puts out its glorious foliage as billions of leaves change from green to a kaleidoscope of vibrant colors. The air is crisp and cool — perfect for hiking, and biking along back roads, where farm stands are piled high with crunchy apples and orange pumpkins. And yes, it is during this time when booksellers and book buyers come together for the Rare Book Week in Boston. Annually, the ABAA Boston International Antiquarian Book Fair takes place at the Hynes Convention Center, with Getman's Shadow Show a few blocks down from there. The Skinner auction house holds its premier rare book sale on the Sunday the same week.
But, this is 2020 and there is an uninvited guest in town. Covid-19 has caused substantial adjustments to the book lovers' agenda. The ABAA book fair will now be completely remote, while Getman's Virtual Book & Paper Fair will also be on-line, and, instead of taking place the Saturday during the weekend of the ABAA show, it will now be postponed until December. The Skinner auction, on the other hand, also completely on-line, will lead the pack starting November 2nd and will continue until the 12th, the very day the ABAA fair opens its virtual doors.
How will these adjustments be received? I wonder? A few things will be the same and a few others will be much different than during normal times. Both the ABAA and Mr. Getman have run events on-line before with mixed results. In fact, Getman's, organizes at least one virtual book sale every month. Skinner is not a newcomer to on-line bidding either, and without the restrictions imposed by floor bidders, will be able to offer a prolonged period for their event (10 days), giving ample time for bidders to bid the prices up. Furthermore, unlike previous years, there are only 460 lots being offered, a smaller number that a live auctioneer can sell in half a day.
Getman's also made several changes. After conducting a survey with their dealer population base, they have decided to limit the number of dealers participating to 200, with a maximum of 21 items per dealer, which will be exhibited between December 4th and December 7th. The respondents to the survey favored going back to a single day event with fewer sellers and items for sale, setting the stage for a possible one-day virtual fair after the New Year. Splitting the fair over two weekends did not receive much support. Both the Skinner Auctioneers and Getman's Virtual Book fairs are leaning towards limiting supply, at least for now.
The 44th Boston International Antiquarian Book Fair (2020), will continue its conventional format of 3-days, (online only), with the first day being Ticketed Preview Day with a $50 admission, whose proceeds will benefit the Antiquarian Booksellers' Benevolent Fund. The major difference is that the Fair will open at 11am EST on November 12, and remain open until 7pm EST on Saturday, November 14, when it ends. Previously, book fairs closed each night and reopened in the mornings. In this event, 160+ participating exhibitors will have a total of between 5,000 and 6,000 items for sale during the preview. This is about 25% more items than Getman's, which will be 4-day online event.
Our readers have expressed some concern about the nature of on-line events regarding the lack of hands-on close examination prior to their purchase. Even though Skinner's is offering the opportunity to inspect the lots before the sale, they are geographically restricted to the few local bidders. Some dealers are also facilitating video conferencing giving potential buyers the opportunity to get a closer look at the book they are interested in purchasing. How will these new arrangements affect the trade? Be sure to check back for the complete analysis of all the activity in this "new normal" world of online book fairs.