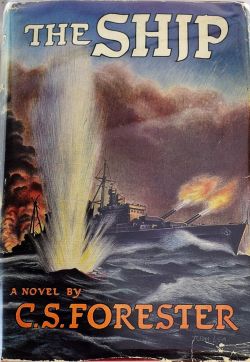 In my spare time, I have been rereading C.S. Forester's brilliant, 12-book epic Horatio Hornblower series, which I originally read when I was a teenager. Transfixed by the destruction taking place in Ukraine, it is hard to read, or watch, or think about anything else besides the war. Such devastation has overshadowed everything else. All of a sudden everything is connected to it; my daily activities, my heart and my mind. C.S. Forester's fictional battle stories present the heroic aspects of battle which provide the comfort and hope of a better world to follow in the aftermath.
Horatio Hornblower, the rare, fictional character creation of C.S. Forester, was an irascible resourceful master of fighting sail, and a man gifted with seeing the bigger picture in European diplomacy 200 years ago. Most of all, however, he was all too human. A firm, benevolent, cynical, compassionate, courageous ship commander, who got seasick, he was socially uncertain, got nervous before battle and frequently succumbed to the wiles of women. He fell in love with the Duke of Wellington's sister, while in his own thoughts remained faithful to his wife who remained at home. With more expression of humility than the bit of pride which he showed when success overtook him, he betrayed the perfect image of a strong military leader who conducted heroic deeds.
Forester's tales of naval warfare, include the 12-book Horatio Hornblower series depicting a Royal Navy officer during the Napoleonic wars. Before the first Hornblower novel was released in 1937 (The Happy Return, London: Michael Joseph and Beat to Quarters, Boston: Little, Brown), Forester began his career as a historical novelist. "The Gun," was his novel about the Peninsular War, when the British fought Napoleon in Spain and Portugal. It was based, like most of his writing, on real events, but he wrote the body of his works carefully to avoid entanglements with real world history. Most of his books were written around the time of World War II, which had an influence on his writing. During WWII, he wrote inspirational magazine and newspaper articles about the Allied Forces from first hand observation.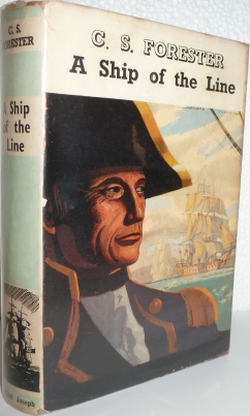 Following The Happy Return, the Hornblower series books in publication chronological order, not following its hero's biography chronology are: Ship of the Line (1938), Flying Colours (1939),  The Commodore (1945), Lord Hornblower (1946), Mr. Midshipman Hornblower  (1950), Lieutenant Hornblower (1952),  Hornblower and the Atropos (1953), Admiral Hornblower in the West Indies (1958), Hornblower and the Hotspur (1962), The Hornblower Companion (1964) and Hornblower and the Crisis (1967),which was an unfinished novel published posthumous.
All of the first editions, particularly the first issue editions which were published by Michael Joseph, are in high demand by collectors. The second book in the series Ship of the Line is extremely scarce due to a very limited release. The publisher had planned to release a separate edition that bundled A Ship of the Line with Flying Colours which resulted in having the single title release cut short. Flying Colours, was released separately after the double volume in 1939. The American first editions published by Little Brown, are also collectible, some of which were illustrated by N. C. Wyeth.
As the Ukrainian death toll mounts, with hundreds of innocent civilians killed, many while attempting to flee, one may wonder what purpose battlefields, heroes, victories and death serve. One may also question the desire to read literature that portrays human aggression, brutality and the aim to terminate human life. Why do we care if we lose one of ours when we aim to take one of theirs? Forester pondered such thoughts through Hornblower's introverted nature which kept him continually isolated from the people around him. Like the Ukrainians, his motivation to fight was boosted by his defiance to oppression.
Cecil Scott Forester once said that Captain Horatio Hornblower was one of his closest friends. On April 2, 1966 when the novelist died, it was announced that he had left a manuscript of the last Hornblower novel Hornblower and the Crisis in a bank vault with instructions to have it published after his death. In this, the 12th and final episode of the saga, the master strategist dies. Losing a loved one is a lonely experience. In a way, Forester, wished to circumvent the sadness and the ache caused by the loss of his friend.