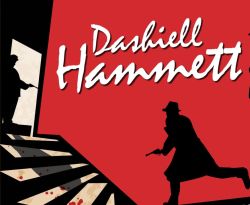 Famous authors, whose writings are colored by fictional portrayals of their own real life experiences, are plentiful. Often, authors turn themselves into characters in their fictional novels because they have unique, interesting life stories to write about.  Kurt Vonnegut, for example, who appears as a character in his novel Breakfast of Champions, interacts with several other fictional characters in the story. Philip K. Dick also appears in his own short story Orpheus with Clay Feet, as a sci-fi author by the name of Jack Dowland (Dick's real-life pen name, at the time). But the most fascinating of them, is the father of modern hard-boiled detective stories, Samuel Dashiell Hammett. His writing of stories is distinguished by their believability and their emphasis on the mechanics of crime detection.  He seems to have the insider's stimulating flair.
There are a number of interesting aspects in Hammett's life but the real-life experiences that he shaped into vital fiction came from his operations with the Pinkerton Detective Agency. At 14, he was forced to leave school to help support his family.  By the age of 21, he worked at the detective agency on cases of theft, robbery, security and surveillance. After catching influenza and tuberculosis, he turned to writing fiction using his real-life work experiences, to provide for his wife and daughter. "The many operative reports he wrote for the agency, taught him to write pithily and with appreciation for the language of street characters."1 His first 1929 novel, was serially published as The Cleansing of Poisonville, and then in book form, by Alfred A. Knopf as Red Harvest (1929). Using his experiences writing about lowlifes continued with The Dain Curse (1929), The Maltese Falcon (1930), followed by The Glass Key (1931) and his last novel, The Thin Man (1934).  First printings of these books with dust-jackets that are in nice condition are very scarce. Prices have climbed, reaching the high end of five figures for some of the more collectible copies.
Hammett's first four novels were serialized in the magazine Black Mask before being published by Knopf. Hammett was a hit with Black Mask readers from the beginning. From 1923 to 1930, the pulp magazine printed 51 short stories by him, the master of detective stories. For a complete list of all the Black Mask volumes containing the stories please go to The Trilling Detective. The few copies that may still be available for sale are in below average condition and priced at around a couple of thousand dollars.
Collectors interested in picking up a first appearance of Hammett's work will have difficulty finding a short story, even in  magazines other than Black Mask, such as: The Smart Set, Brief Stories, Saucy Stories, Action Stories, True Detective Stories, Argosy, Experience, Sunset Magazine, The Forum, True Police Stories, Judge, Mystery Stories and Detective Fiction Weekly.  These pulps, from the author's early writings are scarcer today than the rest of the author's publications, and for a good reason: his hard-boiled detective stories played an important role in the establishment of the genre.  Before these short stories were published, American detective stories did not portray the gritty truths about urban American violence that Hammett introduced with his Pinkerton operative background.  These early works show the ex-detective with an eighth-grade education as he gradually progressed into brilliance.
By 1930, he was one of the most famous authors whose works were adopted into film productions. Being accustomed to the style of serialized writing with short story telling, he continued to get published in other magazines after his relationship with Black Mask ceased, in November of 1930, with the Continental Op title, Death and Company. These stories, which first appeared in Harper's Bazaar, The American Magazine, Collier's (1932), Liberty, Mystery League Magazine, Esquire and Redbook (1933 – 1934), are still very scarce despite being written after his most high-quality work contained in his first four novels.
After the least popular, The Thin Man, was published in 1932, Hammett was through as a writer. Whiskey, women, recklessness with his Hollywood money which he spent as fast as he made, and finally depression took their toll. He joined the Communist Party, and after refusing to give information in court regarding a bail fund that he controlled, he ended up in prison in 1951. He died 10 years later a pauper.
1 Tom Nolan, A Dash of Style, The Wall Street Journal, September 19-20, 2015 C10