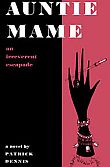 Flamboyance, indulgence, and hilarious adventure are entertainingly amalgamated into Patrick Dennis's much beloved rare book, Auntie Mame; an Irreverent Escapade. Through the eyes of her young nephew, Patrick, the boisterous and wildly eccentric figure Mame is sketched, and the reader is splendidly hijacked and brought aboard Mame's wild plane ride of life of delightfully irresponsible and spontaneous behavior. Whether Mame is uproariously displaying her lack of talent on a Broadway stage, convincingly playing the part of a Southern Belle to her snobbish Georgia relatives, spreading her outrageous taste as an interior decorator, or trying her hand at writing a novel of her memoirs, the reader is at once enchanted with Mame's colorful viewpoint on life, and positively riveted to the story to see what mishap she will land herself in next!
The author of the book, Edward Everett Tanner II, or "Patrick Dennis," appears to have been every bit as lighthearted and unconventional as his character Mame is, himself. He wrote under varying pseudonyms such as Patrick Dennis and Virginia Rowans, and lived a double life as a conventional husband and father to two children, and as a bisexual man. Later on in life and after his initial success as a writer, Dennis's popularity in writing began to dwindle, and he occupied himself instead as a butler to the original founder of McDonald's. Because he had always written under his differing pseudonyms, his employer never knew that the butler serving his tea and opening his doors was actually the renowned author of the acclaimed and revered book, Auntie Mame.
Auntie Mame was immediately successful following its 1955 publication by Vanguard Press, and went into multiple printings within the first year of issue. The book sold more than two million copies thus designating its rightful place on the New York Times bestseller list. Soon after, Auntie Mame was made into a Broadway musical, with Rosalind Russell playing the part of Mame. In 1958, the play was adapted into a film, also starring Ms. Russell as Mame, wherein Ms. Russell was awarded with a Golden Globe award for her stunning depiction. 1966 saw a musical version of the play put onto stage, this time starring Angela Lansbury. In 1974, another film version of Auntie Mame was made starring Lucille Ball as Mame.
Auntie Mame is still quite a globally sought after and enjoyed novel, some fifty years after it was originally published.  Adelphi, the Italian publisher re-released the Italian version of the book entitled Zia Mame in 2009, which had been out of print for several years. After its re-release, Zia Mame was put at the top of the list for Italian bestsellers, and remained there for weeks.
The first printing of the book with the dust-jacket design done by Betty Kormusis is very scarce and extremely hard to find. This dearth of the original has pushed pricing to over $1,000 in today's market, with copies that are also signed by Patrick Dennis being offered for more than $2,000. Later printings are also valued at above $100. There is evidence to believe, that the Vanguard Press edition is fairly worth a significant amount considering its acute scarcity and market pricing for even a sixteenth printing.
Besides Auntie Mame's collectible appeal there is also great enjoyment in reading the novel, which has quickly deemed it as a personal favorite of mine. As a reader of novels, I would recommend it highly to anyone who has yet to read the book. Obtaining the book should not be difficult, as copies are readily available from a number of booksellers and libraries. You truly do not want to miss out on some of the world's best writing.  Auntie Mame received so much success after it was written in fact, that Patrick Dennis wrote a sequel to the novel, Around the World with Auntie Mame in 1958. As I sit here thinking fondly of Mame, a mass market paperback copy of the sequel happens to be staring at me right now from a bookcase across the room, just begging to be added to my summer reading stack of books. I think I better get started.