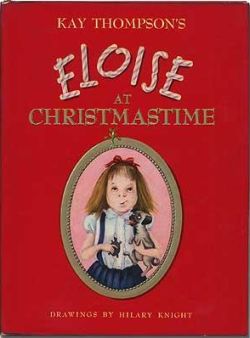 As Christmas steadily approaches, it is nearly impossible to refrain from experiencing some form of stress or another, when one reflects (often with dread) on the countless lists of tasks and responsibilities that demand one's attention before December 25th arrives.
It is during these frantic and frenzied moments that a simple pause in a comfortable chair with a hot beverage and a good book may prove to be both therapeutic and necessary for the mental and emotional well-being. In fact, the very act of temporarily abandoning the hoopla and expense of the season and instead encapsulating oneself in the wondrous world of the written word may be just what the soul has been crying out for, but what has been tragically drowned out before reaching one's ears, by the overplayed and overzealous cries of commercialism that have become today's Christmas carols which brazenly blare from every radio and loudspeaker around.
When selecting such a remedial and ameliorative form of literature and escape, it should be a decision arrived at very quickly for one to reach for the deliciously mirthful and unabashedly festive escapades found in Kay Thompson's literary masterpiece, Eloise at Christmastime. After all, the girl certainly knows how to celebrate a holiday right.
By the time the world was gifted with the 1958 publication of Eloise at Christmastime, it was already well acquainted with the rather mischievous and ingenious minx that one can certainly not help but to love. With her smashing debut in the form of Eloise: A Book for Precocious Grown-ups (1955) and the hilariously cultured Eloise in Paris (1957), the world was very ready to experience just how the animatedly vivacious little girl would choose to observe her holiday. It was not disappointed.
While the entire conglomeration of the Eloise books are thought to be loosely based on the author's goddaughter Liza Minelli, they are actually more of a reflection on the author herself, rather than on the famous heir of Judy Garland. Upon closer inspection, it is evident that the six year old scamp so beloved among Kay Thompson's pages actually exhibits very mature behavior and ideas for her minimal age. For instance, in Eloise at Christmastime, Eloise gifts the Plaza doorman with a bottle of booze to keep the December chill out of his bones. Would a young six year old truly demonstrate such advanced thinking? Indeed, underneath the surface of the rather naughty and attention starved little girl, one can easily scratch to find the very heart and persona of Thompson herself.
Hailed by some to be her own live version of Auntie Mame, Thompson's colorful life and unrestrained personality, both onstage and off, are a close match indeed for the pint sized literary figure with the larger-than-life personality so tightly captured by the hearts of all those around the world who have read her tales. As just one example of the similarities between the two, Thompson is known to have once said, "I've discovered the secret of life. A lot of hard work, a lot of sense of humor, a lot of joy and a lot of tra-la-la!" Now if that doesn't sound like something the rather zestful six year old would at some point in her young life utter, then perhaps it is time to reacquaint yourself with the shenanigans of Eloise through Thompson's hilarious literary works.
Once Eloise at Christmastime is opened, the reader is delightfully embraced, enveloped and invited to take part in the impish antics of Eloise that come straight from the imagination and pen of the extraordinary Kay Thompson. What is even more captivating about the enthralling and amusing seasonal favorite is that it is brought to life, page by page, through Hilary Knight's lively and comical artistic depictions of the exertive six year old and her very important holiday agenda. Hop down the halls of the Plaza hotel in a life sized stocking? Check. "Zippity jingle and dash away tingle" as we boldly write our Christmas greetings in big block letters on the carefully preserved and articulately painted walls of the famous hotel halls? Done. With a mere flick of his paintbrush, Knight masterfully breathes life into Thompson's mental conjuring of the sprightly six year old which the world quickly came to love.

What is perhaps the most therapeutic aspect of reaching for Eloise at Christmastime during the taxing and often disquieting days leading up to Christmas is the simple fact that Eloise, in her rather staccato and unflinchingly joyous ways, reminds us to cast aside our daily worries and to simply play. Eloise doesn't once allow the exasperation or annoyance of others towards her eccentric behavior to slow her down or encumber her festive endeavors. Indeed, the contrary rings true, as Eloise allows her untethered imagination to take full rein as she allows her genuine self to shine as bright as the visions of sugarplums that she and her beloved dog Weenie collaboratively envision as they're tucked snug in their beds.
What a vital reminder and a valuable lesson Eloise provides to us to let go of all that is holding us back from experiencing joy during the season, and to simply enjoy the beauty of all that it represents!
Ooooo, I absolutely love Christmas, don't you?