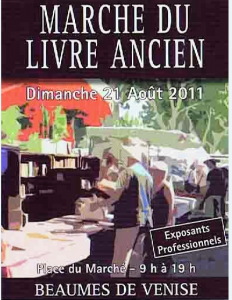 If you are a rare book collector as well as a wine lover, and you happen to be in France during the third week of August, then it is simply a must that you visit an extremely interesting and  promising Antiquarian book market.
At the large shaded square of Beaumes-de-Venise (84) of France, in a location that is melodiously lulled by the cicadas, the 3rd Antiquarian Book Market will be held on Sunday, August 21, 2011, from 9 am to 19 pm.  Following the success of the two previously held markets over the last two years, the event has attracted many booksellers and book professionals who together offer high-quality books which range from current and affordable books, to those which are rarer and potentially more valuable. The wide variety of books which are available at the market are destined to please all who are interested in the captivating world which books have to offer.  From the collector who would like an enjoyable book to read during the holidays, to the curious book lover who  delights in making discoveries, to the aged and seasoned bibliophile. It is the type of event that anyone having any type of book interest should try to visit on Sunday August 21st.. The Beaumes-de-Venise book market organizers promise to fulfill anyone's expectations. Dedicated Rare book collectors should keep in mind that it is in such events that real treasures are discovered and real  opportunities arise.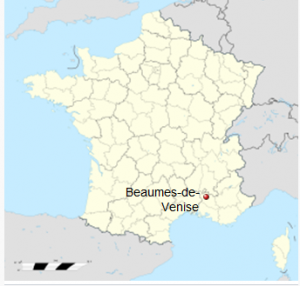 Beaumes-de-Venise is a picturesque small town commune of about 2300 inhabitants in the department of Vaucluse, in the Provence-Alpes-Cote d'Azur region of Southeastern France.  It should be a familiar fact to the wine lover that the village has given its name to a sweet wine appellation, Muscat de Beaumes-de-Venise as well as to a red wine, formerly Côtes du Rhone Villages Beaumes-de-Venise, now AC Beaumes-de-Venise. In a world which is intermingled with incredible literary finds and robust and delicious French wine, the true Rare book collector and lover of wine will find the 3rd Antiquarian Book Market to be sheer heaven.