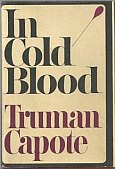 Often times dealers are selling, along with a particular rare book, other important material that was laid into the book by the owner, author or publisher either for reference or unintentionally. An item laid-in is something which is included with, but not attached to the book, such as a sheet of paper, a card, a signed letter, a newspaper clipping, a publisher presentation copy note, hand-drawn sketches, annotations and so forth. By definition, such collections are unique and often times enhance one's appreciation and affinity for the accompanied book. Although all dealers I know are usually willing to offer the rare collectibles at a significant premium, I have seldom seen any of them publicize the source of their findings.
Seattle based dealer, Vintage Memorabilia, placed a copy of the Kansas Bureau of Investigation case file on the 1959 Clutter murders, theme of Truman Capote's best-seller "In Cold Blood" up for auction.  Shockingly, the material was put out as trash by the widow of Harold Nye, the lead investigator on the Clutter case, along with a signed first edition of Truman's book. The 1965 book, which was based on the case, was the first example of a nonfiction novel or a novel based on a true story. It fueled Capote's popularity. The recently discovered criminal case material gained the attention of institutional and private collectors, as well as the Kansas attorney general's office and members of the Clutter family. Under normal circumstances the copies of a long-closed police file are typically considered worthless and draw no attention. This lot was an exception, however, because of its valuation.
The madness does not stop there. Columbia University lists on its website large lists of important findings grouped by theme and sections, such as "Laid in Correspondence and Clippings." For example, a collection under Tennessee Williams contains the following categories of findings:  Correspondence, Works, Personal, Works by Others, Photographs, and Audiotapes. Each one of these contains a number of items that the University owns and catalogs in storage boxes and exhibits.  Items collected range from a Tennessee Williams Journal of a Florida hitchhiking trip during 1941-1942, to a grouping of travel documents from 1962-1963, that includes 12 items: Passport, prescription, and other documents collected by cousin, Stella Adams. A collection of financial items from 1953-1982 include statements, invoices, bank records, car records, membership dues, and so forth. Next comes the medical records box from 1948-1981, that includes letters on Rose Williams from 1949, 1963, 1972. Memorabilia such as menus, ads, flyers, posters, fossils, scarves, glasses, etc.  are all part of a small subset of what is listed under Personal findings of author Tennessee Williams.
There must be a significant amount of material that is either not easily identified or that is of a much smaller scale than a police file that remains undiscovered and ultimately destroyed. It is for this reason that when a dealer comes across a rare item related to the book, the author, or an association of the author and so forth, it is time to make hay.
Back to the Kansas Bureau findings, the long-standing question remains the same. Would the police file material seem as attractive to collectors without the "In Cold Blood" signed first edition present in the lot? The two largest authorities in Capote collections and memorabilia, the New York Public Library and Library of Congress, have definitely tuned in. They have categorized the KBI Clutter case file as very unique and rare.