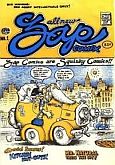 The first book illustrated by Robert Crumb does not rank as high by his large group of followers, as some of his underground comic magazines.  However, the controversial, American cartoonist and musician released his first book as well as the first issue of his first comic book around the same time. The year was 1967 when both "Zap Comix No. 1" (Apex) and "The Sad Book" (American Greetings) hit the market. Together, they mark the beginning of a prolific artistic career that successfully balances on the very fine line between controversy and the ingenious.
It is not hard to understand why the book is not that important or collectible.  It is an early career collaboration between Crumb and John P. Gibbons, at a time when Crumb was mostly dissatisfied with the work he was doing as a commercial illustrator. He was drawing novelty greeting cards for the American Greetings Company, the publisher of the book, which was far from the type of work that Crumb, the prominent figure, of underground and alternative comics' milieu, is famous for.
In contrast, the first issue of the first comic book that the founder of Zap Comix, and contributor to all of the 16 issues produced is a rare collector's item. Number 1 was printed by Charles Plymell , the Beat Movement poet and collagist in late 1967, and was released in the U.S.A. by Apex Novelties in early 1968. The magazine measures approximately 7″ x 10″ and runs 28 B&W pages. Cover price is $.25 and features art and stories by R. Crumb.
Both "The Sad Book" and "Zap" were created after Crumb started taking L.S.D. in Cleveland during 1965. Crumb confesses that the experience changed his head around: "It made me stop taking cartooning so seriously and showed me a whole other side of myself," said Crumb.  It was during this period that he created many of his future hit characters: Mr. Natural, Mr. Snoid and Angelfood McSpade. In January, 1967, he left Cleveland and escaped to San Francisco, settling in Haight-Ashbury.  While there, Crumb drew "Zap #1" and "Zap #0" in the fall of 1967. He later sold them on the street in 1968 out of a baby carriage, essentially establishing the birth of underground comics. Crumb intended to have "Zap #0" be the first issue, but it was stolen before the issue went to print. Later he used some photo copies of the drawings to re-ink and publish "Zap #0" soon after the release of "Zap #2."
The rare first printing has a print run of 1500 or less (the 5000 official run was reduced due to the lack of technology which caused most of the copies to go to waste), and a current price tag north of $5,000, depending on the condition. Grades are assigned to comic books based on their condition. The grade scale ranges from 10 which is pristine mint, and reserved for copies that have never been handled, down to 1 which signifies significant loss.  Sellers of comic books often use a CGC (Certified Guaranty Company) offering professional certification of its grade. A 9.4 copy of "Zap #1" was sold for $26,000 at auction in 2010.
 Speculation grants a fair value around this range, and an even higher value based on the rarity and importance of the magazine. There is, however, a big lag currently in the pricing of underground comics when compared to the equivalent pricing for mainstream comics such as Spider-Man, Superman and so forth. If the underground comic prices catch up to mainstream comics, then $26,000 for "Zap #1" in near mint condition will be a bargain.